Fiverr Affiliate Program Review- How to make money with Fiverr
A Goldmine Hidden Right Before You in Affiliate Marketing but most of you are yet to see it; but in this article, I'm going to help you to uncover that through this Fiverr Affiliate Program Review which of course is just one channel out of several others.
Maybe you've heard about Affiliate Marketing, maybe you've not; whatever the case or which category you may find yourself in at this moment, it's not too late to start working out a system that will continue to pay you for the rest of your lifetime. 
If you're interested in Affiliate Marketing but have no idea about what it is exactly, how it works or even how to get started as a Nigerian living currently in Nigeria with 100% Nigerian Affiliate Marketing platforms that pays some very good commission, then I'm going to show you how easy it is to make money with the Affiliate marketing model here in Nigeria?
If you're ready to not only find out how it works but to start making some serious money as well, then I'm more than willing to lead you by the hand and show you exactly how to start making consistent money online the legit way without selling your physical product or service. 
For you to succeed, you need to go through some of the best Fiverr Affiliate Reviews available on the internet; but I guarantee you, this is the best you'll find.
So, stop searching and let's get to it!
What is Affiliate Marketing?
Affiliate Marketing is an online business model where you earn a commission by simply recommending someone else's product(s) to people who need them. You get paid the agreed commission once your referrers buy anything or subscribe to a service through your link. That's all!
Affiliate Marketing is not just powerful, it's also a proven business model, that is highly effective and rewarding both offline and online. It has always been there even in our local markets. In Igboland, we call it "Oso ahia" or "Oso afia".
With this business model, you can earn commissions as low as 30% and as high as 70-100% of the product cost.
Why should you take advantage of the opportunity that Affiliate Marketing offers to make money for yourself online?
There are a good number of reasons why you should do so; and as an active player in the industry myself, I'm going to share a few reasons why should have started Affiliate Marketing 10 years ago (it's never too late to start though; but if you're still wasting time, you're leaving money on the table).
You don't buy any product.

You don't stock physical products.

You don't need a physical office.

You don't need to hire staff.

You don't need to talk to anyone.

You DON'T handle any customer related issues.

You don't need to import a personal product.

You don't need to create a personal product.

You don't need to deliver the product.

You only refer, get paid, bank or invest your money.

You earn a consistent income with it

You can work from anywhere at your own pace.

It's inexpensive and very easy to start.

You don't need to be an internet guru before you start.

Lazy people hate Affiliate marketing 

It's very legit and practised all over the world.
Your only job is here to find prospects (online). Once they buy a product they need using your Unique Affiliate link, you get your payment alerts. It's that simple!
Note: If you're a lazy fellow, don't even dare because there's work to be done here in Affiliate Marketing. The industry does favour those who brush their teeth with excuses every time. Folks who make money, make no excuses! 
If you're ready, I will show you how to get started. So, let's get started!
Getting Started with the Fiverr Affiliate Program
Fiverr undeniably is one of the most dominant marketplaces for freelancers on the internet; more importantly, the Fiverr Affiliate Program is a powerful platform for money making online (for all serious-minded individuals). So, are you ready to become a Fiverr Affiliate? If yes, then get focused and let's proceed.

Who can join Fiverr Affiliate Program
There are no barriers when it comes to joining the Fiverr Affiliate Program because it's open to everyone to apply and join as well. The most beautiful thing about Fiverr Affiliate Program is that it's not selective as the other affiliate programs out there (even though it's a world-class platform and about the biggest market for freelancers) and you don't even need to have a website that is a basic requirement for most A-list affiliate programs.
This article will take you through the step-by-step sign-up process and pretty much everything that you need to know about the program. 
Towards the ending part, I've made available some tips for you on how to promote the Fiverr Affiliate Program.
Fiverr Affiliate Program
The Fiverr affiliate program makes it possible for users to earn commission by simply referring products and services that are available on the platform to other people to buy. Such commissions only become possible once the referrals successfully click on your link to buy the offer that you're promoting.
For you to start enjoying these benefits and also be able the maximize the opportunities that this platform provides, then you will need to create an account first.
Note: Your Fiverr Affiliate account is not the same as your Fiverr account which you normally use for buying or selling Gigs.
Find below a step-by-step guide on how to sign up to the Fiverr Affiliate Platform:
Signing up for the Fiverr Affiliate Program
Step 1: Go to Fiverr Affiliates Sign-up Page and join the affiliate program. If you have an account, then just go ahead and log in.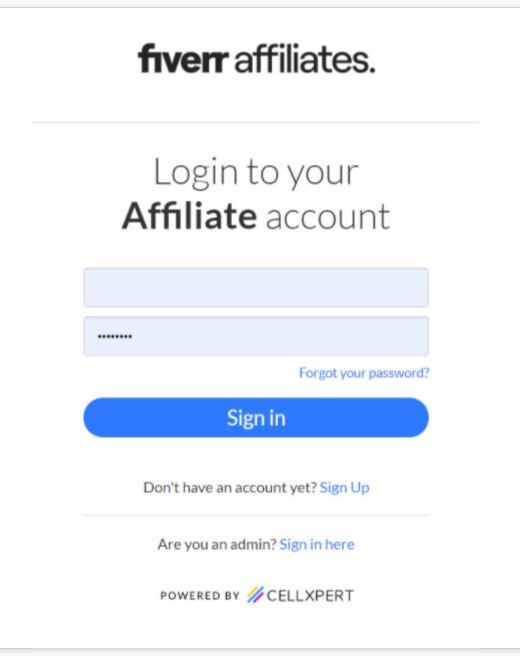 The sign-up process for joining the affiliate program is straightforward and has just two steps to it. 
(a). In simply fill in your details and 
(b). Click 'Next'.

Step 2: Write a Little Bio About Yourself
On this page you'll be required to do two things:
Provide information on how you will promote Fiverr services.

Define your audience's interests.

However, feel free to just any promotional method At this point, as it doesn't matter what you choose since you will not get any specific promotional material based on these options. Whatever promotional method you choose is cool provided it's not spamming.


Finally, don't forget to Agree to the Terms of Privacy before you hit the 'Register Now' button.
Once you get through with the sign-up form, you will be able to log in straight to your new account. The sweetest part is that Fiverr doesn't take you through the regular stressful approval process like some other top affiliate platforms normally do, and you can start promoting their services right away without delay.
The affiliate platform is user-friendly and super-easy to navigate, nonetheless, you can check out this Fiverr Affiliate Guide to help you understand the affiliate program and platform better. You'll also learn how to create and manage your campaigns.
Fiverr Affiliate Program Overview
Now, let's start by taking a holistic approach to understanding the entire platform. So, we'll start by focusing on the negatives at the moment.
(a). The Negatives: The first thing to remember is that the platform pays you sales commission only for orders placed by first-time buyers (FTBs). These FTBs are not people who already have an account on Fiverr or people who have no account but never bought a thing.
(b). The Positives: Now let's talk about the positive side of things; when it comes to the Fiverr affiliate program. Now, it's very important to let you understand that all links in the program include a 12-month tracking cookie. 

This simply means that If someone clicks on your link and buys something within 12 months, you will get a commission for that order. So, even when they don't buy immediately, Fiverr keeps the window open for up to 12 whole months period to ensure you get what is due you for simply referring them to the platform.
Another major benefit of the affiliate program here is the advantage of promoting your links to people in 160 countries. In simple terms, if the buyer is not from the US, but from an approved country on the list, you will be paid your commission (without unnecessary questioning).
Finally, affiliates can use deep links to directly promote products and increase sales. What this means is that they can connect a direct link to the product or service, and by so doing, the buyer to make a purchase right away.
All your commissions earned on Fiverr can be withdrawn straight to your PayPal or bank account. The platform pays out commissions once per month and its payment threshold is $100.
Understanding the Fiverr Affiliate Commission Plan

The Fiverr Affiliate Program has a very dynamic CPA (Cost Per Acquisition/Cost Per Action) commission structure (obviously one of the best that I've seen here online). You qualify for a certain commission depending on the offer type that you're promoting immediately after someone purchases through your affiliate link. (I have included an image of the Fiverr Affiliate Commission Plan Below).

This is the original Fiverr marketplace for freelance all over the world selling services such as graphic design, video editing, writing, marketing, editing, voice-overs etc for monetary reward. 
So, anyone can buy or sell services in this very global market. If you're looking at selling other people's services (by way of promoting them to people who require such services), then the commission for these services ranges from $15 to $50.
For instance, the figures below are the approved commission rates for the understated services:
Whiteboard & Animated Explainers – $50

WordPress – $40

Slideshows & Promo Videos – $30

Articles & Blog Posts – $25
This is a pro version of the original Fiverr. Here, the only sellers allowed to do business are those endorsed by the platform to deliver services on trust because their expertise is not in question. The services here are generally expensive because only top-class professionals are allowed to do business here. 
The minimum price for a Fiverr Pro gig is $100. There's also a fixed commission for all Fiver Pro services which is $150.
Fiverr Learn is the platform's learning academy where freelancers can take courses and polish their skills in their respective fields. Courses available on the Fiverr Learn range from branding, digital marketing, design etc.
Although the Fiverr Learn courses are primarily targeted at freelancers who are already on the platform, however, anyone can take these courses. 
The commission for every course ordered with an affiliate link is $30.
This is a freelancing software company acquired by Fiverr. It aims to provide more structure to freelancers and small businesses as well. It's a SaaS application that specifically helps freelancers organize their gigs, keep track of time and manage their invoicing efficiently.
The commission for every AND.CO Pro plan is $30.
If you're interested in making legit money by promoting the Fiverr Affiliate Program, then I'm going to show you exactly how to do that if you're willing to do the work.
Just as with every other program out there, there are several ways you can also promote the Fiverr Affiliate Program and make money doing just that. 
Now. I'm going to walk you through some of the most suitable, safest and easiest ways of doing that. Not just that, we'll only focus on the safest and easiest means with the biggest earning potential.
(a). Create a powerful guide around your niche and recommend services/ sellers on Fiverr for each step of your guide.
For instance, if you have a website that is centred on blogging like mine; you could write a very detailed guide like the one I have on HOW TO START A BLOG you can deliberately mention WordPress website development in the guide and other things like the importance of having a professional logo, Search Engine Optimization etc.
Another way you could do this is by recommending professional sellers on Fiverr under each section of your guide. Make sure that whoever you're or whatever you're recommending is capable of giving them value for their money. Don't recommend rubbish products or unprofessional sellers.
Having some detailed step-by-step guides on your blog is one of the most powerful ways of monetizing your website/ blog by promoting your Fiverr affiliate offers using. 
You can cleverly attach your unique links for various services and by so doing, you'll increase the chances of someone buying from one of such recommended services through any of your links.
(b). You can also specifically mention services that you have personally bought from on Fiverr within the body of your content.
For instance, you can write an article on branding and then list out the best platforms that one can buy a highly professional Logo to build or grow their brand. 
You can also include Fiverr in that list and mention a freelancer from Fiverr who can give them that quality of job as well so that they can focus more on building their business and reducing unnecessary waste of time.
So, if you have a powerful logo that people love, they will most likely take your advice on Logo creation or even accept whatever service/ or seller that you're recommending on Fiverr. 
You can also craft an article about content outsourcing for a blog. You could also list a couple of different platforms (including Fiverr). Then at the end of the article, you could say that it was written by a freelancer from Fiverr. If your article was well-written, you would likely get many conversions from your link.
(c). Write a powerful review of Fiverr/ or draw a comparison of freelancing platforms.
But before you proceed, you must understand that Fiverr only pays you a commission if the person you referred a person has never bought a thing on the Fiverr marketplace before. 
This is the very reason why I always encourage folks to try as much as possible to own a personal website/ blog; that way they can write a review of the Fiverr platform. Once this is done, there's every possibility that most of the people who will engage that piece of content will be people who are new to Fiverr and want to learn more about it; more especially to learn how it will make them some money.
(d). Find a way to promote your affiliate links on targeted Facebook groups and forums with an impressive number of members.
To make money online, you'll need two things:
A product/ service

Quality traffic (which is: the people)
So basically, there's 'making money' without 'selling'; and there's no selling without great networking to help you generate quality traffic. Now, you understand that there's a lot that goes into advertising…right? It's not just about paying for ads and shoving the products up in people's faces. Your tone of communication matters a lot (even when you're paying to get connected with those people).
Mess this and flush your money down the drain…simple!
So, you don't need to create yet another product. Fiverr already made available around 200 categories that you can promote and earn money from conveniently. 
One of the major ways to promote your links is through Facebook groups. You can provide quality content from time to time on some dedicated/ or related Facebook groups and forums even threads within forums.
However, no matter what you do, desist from spamming your links all over the internet. You'll not get any result; at most you'll get an outright ban- that's how most affiliate networks will respond to you. 
If you want to see results fast, focus on providing high value by writing quality articles that address pressing issues or answering questions and then of course insert your affiliate link as a recommendation (a solution for their problem).
For instance, you want to promote SEO services on Fiverr which have a $30, commission. The first thing you need to do would be to figure out who your target audience would be: in this case, your focus should be on people who are interested in optimizing their blog for more traffic. 
So, you can go to Facebook groups and type in the keyword 'SEO' and you'll find many related groups that would be perfect for you to promote your affiliate links.
(e). Write down your income plan
So, let's say your financial goal is to make $1,500 per month, then you have to focus majorly on promoting services that have CPA of at least $40, such as:
E-Commerce Development- $50

Website Design- $50

3D Models & Product Design- $50

Mobile Apps- $50
In this case, you'll need to refer just 30 people to hit your monthly financial goal of $1,000. So, is getting one person per day a difficult task? I think you need to respond to that question personally and keep the answer to yourself.
Additionally, you should also promote Fiverr Pro services which have CPA of $150 all through; in which case you'll need to refer just 10 persons to hit your financial goal of $1,500 per month
Now, don't get scared here because I mentioned 20-30 referrals per money. Listen, having a personal website with a steady flow of traffic makes getting referrals fun and very easy too. 
But If you don't have a website/ blog yet, or you have just started one newly, then you should focus on promoting Fiverr through social media because your articles would not start generating traffic instantly.
PROs vs CONs
So, let's look at the positive side and also the downside of using Fiverr for affiliate marketing:

PROs:
Fiverr as a company is accepted and recognized globally.

The network provides

all kinds of skilled services set imaginable

 to a buyer.

Pays high commission for all Fiverr Pro services and some selected original Fiverr services.

All affiliate links have a 12-month tracking cookie

(you can call it the cookie life span).

Liberty to generate deep links.

Fiverr Affiliate Program allows you to promote on social media.
CONs:
Affiliates are entitled to a commission for first-time buyers only.

Fiverr Pro caps the commission at $150; this means that even if the buyer (that you referred) purchases a service worth $10,000, you will get a commission of $150 only and nothing more.

You need to research carefully to find out what's hot on the internet and what's not before you start promoting because not all gigs on Fiverr are of making money as anticipated. So bear in mind that not every niche makes money.
Notwithstanding, it's very evident that the benefits of doing affiliate marketing the Fiverr Affiliate Program far outweighs its downsides. If you calm, learn, assimilate and execute everything you've learnt on promoting Fiverr the right way, you can easily make $1,500 per month.
But don't forget: It's not voodoo, so magic is not required here. Just follow the process.
The Fiverr Referral Program
Apart from the Fiverr Affiliate Program, Fiverr also has its referral program – and both are two different things entirely.
For instance:
In the Referral Program- you don't need to fill in a sign-up form to join, all you need do is to get registered on the platform as a buyer or a seller.
This simply means that if you have a Fiverr account, then you can simply access the referral program from your account. To do so, quickly click on your user image and select "Refer & Get Up to $100".

Another very important thing is that in the Fiverr referral program, you don't get paid via your PayPal or bank account as obtainable in the Fiverr Affiliate Program. 
So, basically what you'll get is only Fiverr credits just as Canva (and $500 is currently the max).
In simple terms, If someone buys from your link, then you'll get a 20% discount off their first order amount on your next order (capped at $100 USD). 
In the Affiliate Program- You only get paid when a first-time buyer clicks your link and buys from you. So, while you will not directly make any money with the Fiverr referral program, you can at least save up to $500 on your next order.
So, understanding the sharp differences between these two will help you to plan properly and hit your financial goals faster. Take your time and study this properly. Don't jump into it. Make sure you're very clear on these two before you start promoting.
Would you like to have a feel of a well-rounded Fiverr Affiliate Tutorial, then you should go to this FIVERR AFFILIATE GUIDE by Fiverr to learn more. 
Very Important: I think you should also see Fiverr Affiliate Terms & Conditions before you continue.
Good luck to you my friend!