"Here are just a few of the all-time winning tools that have helped me to build a thriving business here online. You too can take advantage of them by using them to grow your website".
Recommended Tools & Resources for Blogging & Affiliate Marketing
Two major problems that most newbie bloggers and unsuccessful affiliate marketers are facing are:
#1. Lack of tools & valuable resources. #2. Not knowing what to do (lack of expertise). #3. Lack of information on available resources & tools.
Almost every time, I normally come across a lot of people asking me for recommendations on what different tools, training, resources and services are available to use for bloggers/ and or Affiliate Marketers to grow their business with. 
So, people particularly want to know exactly what tools I use to run my blogs and power my affiliate marketing business as well.
Therefore because of that, I've put together a list of recommended blogging/ affiliate marketing resources and tools that I've either personally used (in most cases) or which have come highly recommended to me by people I trust in the industry.
So, without wasting much time, I must have you know that:
(a). This page contains affiliate links- This simply means that I will get a commission should you decide to purchase through my links, at no cost to you.
(b). These recommendations are not intended to market anything at all to you but if you see what makes life and work easier for you on this list, then I'll get a little reward if you take action. So the intention here is to help you; not to sell anything to you.
However, I'll be updating this list from time to time as I come across new blogging/ affiliate marketing resources and tools that I recommend.
So basically, I'm simply sharing this with you because I thought, it may be really helpful to share what I use (and these are the same tools that I and my team have been using to get outstanding results in our work). 
If you have a suggestion, please do drop me a note, I would be glad if you can help me make a valuable addition to this list.
Should you have questions on how to use a specific tool or simply don't know if is worth your time and effort, please feel free to contact me for further explanations.
Ensure you bookmark this page and check it regularly as it's updated often (so you don't miss anything).
I wouldn't want to drag you back and forth because there are other blogging platforms that you can use like: Wix.com, Tumblr, Weebly, Joomla, Blogspot, Typepad, Ghost, Squarespace etc. but for this list and what we want to achieve (because time is money and we don't have all the time in the world to waste, we'll be focusing on WordPress.
So, my recommendation of/ and choice for blogging platforms is very clear but you have better alternatives or would like to search further, then you're free to explore. After using several platforms over the years, I've come to realize that there's no platform like WordPress; and ever since I discovered this in 2016, I've not built a blog on any other platform and I'm not planning to do so either. 
I'm not also alone in this as it is also the blogging platform of choice of most other bloggers today.
A couple of other platforms exist of course including:
Recommended Reading: How to Start a Blog
For the records, I recommend mostly FREE tools or trials that can handle the job done and you may cancel without getting charged.
2. Domain Search Tools/ Name Generators:
Domain Wheel: This is one of the most awesome domain name generators that lets you find good domain name ideas. The tool during search also combines the search with random ideas, names that sound similar to your search, rhymes with your search, and some other random ideas. This is exactly how it generates results.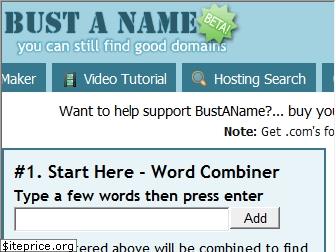 Bust a Name: In terms of aesthetics, this one is not too impressive because its layout and design are not as attractive as some of the more modern tools, but don't mistake its bland look for a lack of results. This particular tool has a ton of features that other tools don't have; some of such features include the ability to set prefixes, suffixes, hyphens, plurals, and even the option to drop the last vowel of a word. Click here to Signup.
There are still some other beautiful Name Generators but this is not what we're here for.
3. Domain Registration Tools:
Namecheap: I can't recommend this one enough. If you are building a portfolio of domains, you should purchase or transfer them through NameCheap. NameCheap is one of the more secure registrars around. 
They offer two-factor authentication which generally is a must with most good registrars these days. NameCheap also offers hosting, SSL certificates, backup solutions, and many more. Outside that, they also have an affiliate program to help you make some money by recommending them to your people. Click here to Signup.
Smartweb: If you're in Nigeria, then this is your best plug; and they're very affordable as well. Here you can get a .com.ng for N1,450 and a .com for N4,800 per year. It also offers you the opportunity to make money through affiliate marketing and get paid in Naira straight to any Nigerian bank of your choice. Click here to Signup.
Qservers: This one gifts you with N500 immediately after you signup and also allows you to earn through affiliate marketing. Smartweb and Qservers are the best Nigerian host where you can also get the cheapest domain deals without compromising quality. Click here to Signup.
Porkbun: Internationally, I believe this is one of the cheapest domain registrars. Unlike Godaddy who promises cheap services but gives you a completely different figure when you add the domain to the cart. 
Initially, to register a .com domain you pay only $4.15 in the first year and then renew it at only $8.56 (but this is no longer the case but they have also shut down their Affiliate Marketing program). 
The platform also offers web hosting, whois privacy, SSL certificates, URL forwarding, etc. They're very good!.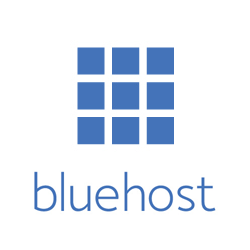 Bluehost: If you're a freelancer or a business owner out there you must have a personal website showcasing your own business, brand or simply reaching the world with your message. Bluehost makes it easy to own a website just with a single click almost everything is ready. 
For example, setting up a WordPress website to showcase your talent. Doing on Bluehost is very easy and usually comes with minimal cost, great infrastructure and more especially, you'll get a free domain name.
WordPress itself has been recommending Bluehost for web hosting since 2005. With 1-click WordPress installation, 24/7 support, and a super affordable rate, Bluehost is one of the best options all over the world when it comes to Webhosting. Click here to signup.
WP Engine: While Bluehost is a great option for beginners, information is also circulating like wildfire about WPEngine and if you're thinking of hosting an established website with crazy traffic (or simply want to position yourself for that in the future, then WPEngine is your guy). They are more expensive but are a better choice for most established bloggers currently. 
OceanWP: If you're thinking of starting your website project, then this is the perfect theme for you. It's lightweight and highly extendable, it will enable you to create almost any type of websites such as a blog, portfolio, business website and WooCommerce storefront with a beautiful & professional design. 
It's also very fast, responsive, RTL & translation ready, best SEO practices, unique WooCommerce features to increase conversion and much more. One more beautiful thing is that you can even edit the settings on tablet & mobile so your site looks good on every device. 
It's also compatible with the most popular page builders as Elementor, Beaver Builder, Brizy, Visual Composer, Divi, SiteOrigin, etc. You can also start with the OceanWP free plan.
If you're looking for a Multi-Purpose theme? Look no further!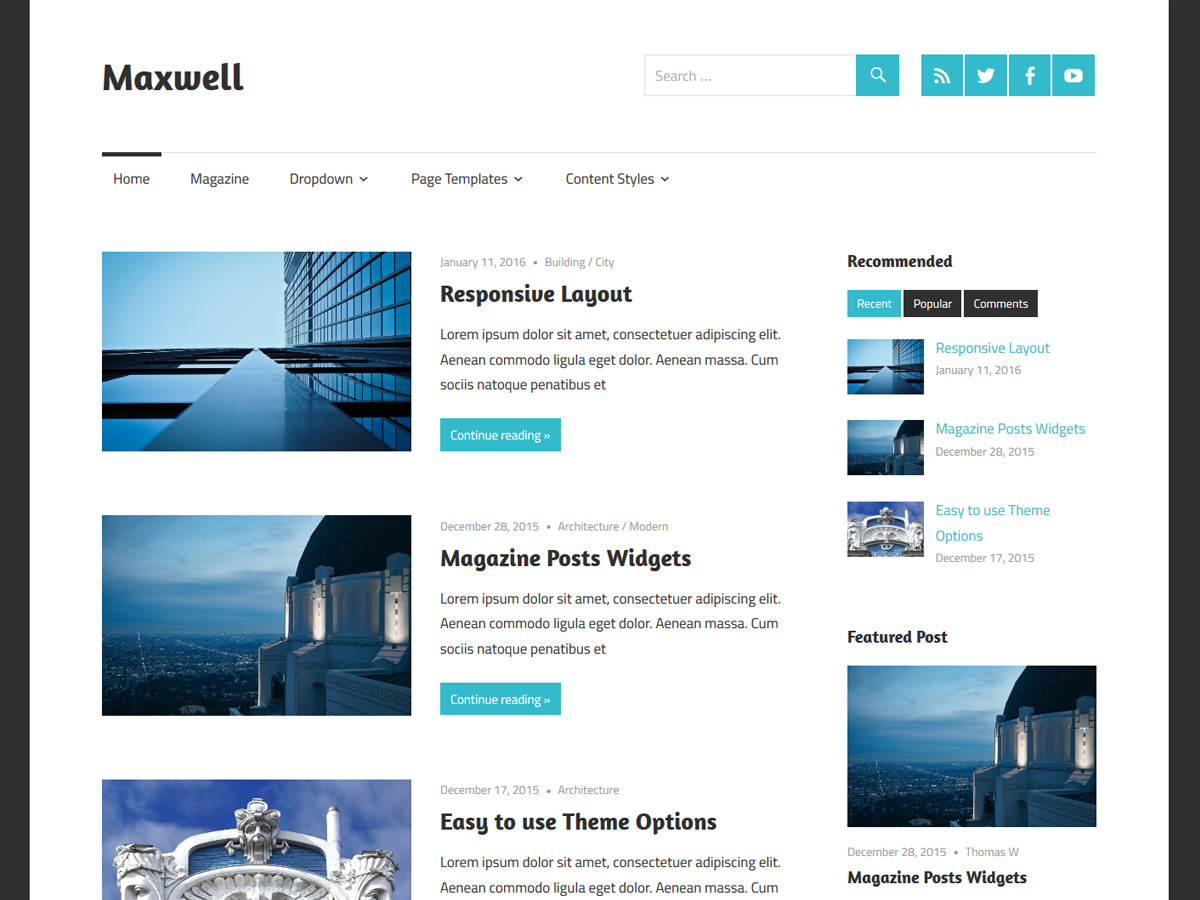 Maxwell: This is a minimalistic and elegant WordPress theme featuring an ultra clean magazine layout. With very beautiful typography, various post layouts and a gorgeous featured posts slideshow Maxwell truly will help you to creates blogs that stand out. If you're low on budget and want for that goes for free and yet very clean, then Maxwell is your guy!
StudioPress: If you have a budget and taste for something sweet and classy, then you should go for StudioPress. There are tens of thousands of blog themes available for WordPress blogs and you cannot download all of them, or try out all of them. However, this is my advice: you can use my suggestions here or carry out your research. Once you get something that works for you, then go ahead and start using it to grow your business.
Google Search Console (FREE): This very tool delivers reports and data to control your website on Google. It helps users to discover you through Google Search, including specific queries that resulted in your site appearing in front of users.
With this tool, you can determine which queries brought your traffic and review your backlink profile. You will also get alerts for any issues found on your site, and analyze clicks from searches. 
Google Analytics (FREE): This very tool covers just about every area of your SEO process. With this tool, you can get metrics on what keywords people used when they land on your pages. Google Analytics gives you important insights into what you need to tweak and improve. With this tool, you can also consistently measure and review your metrics to see your traffic growth and make adjustments to your campaign as you see high bounce rates or pages with high exit rates.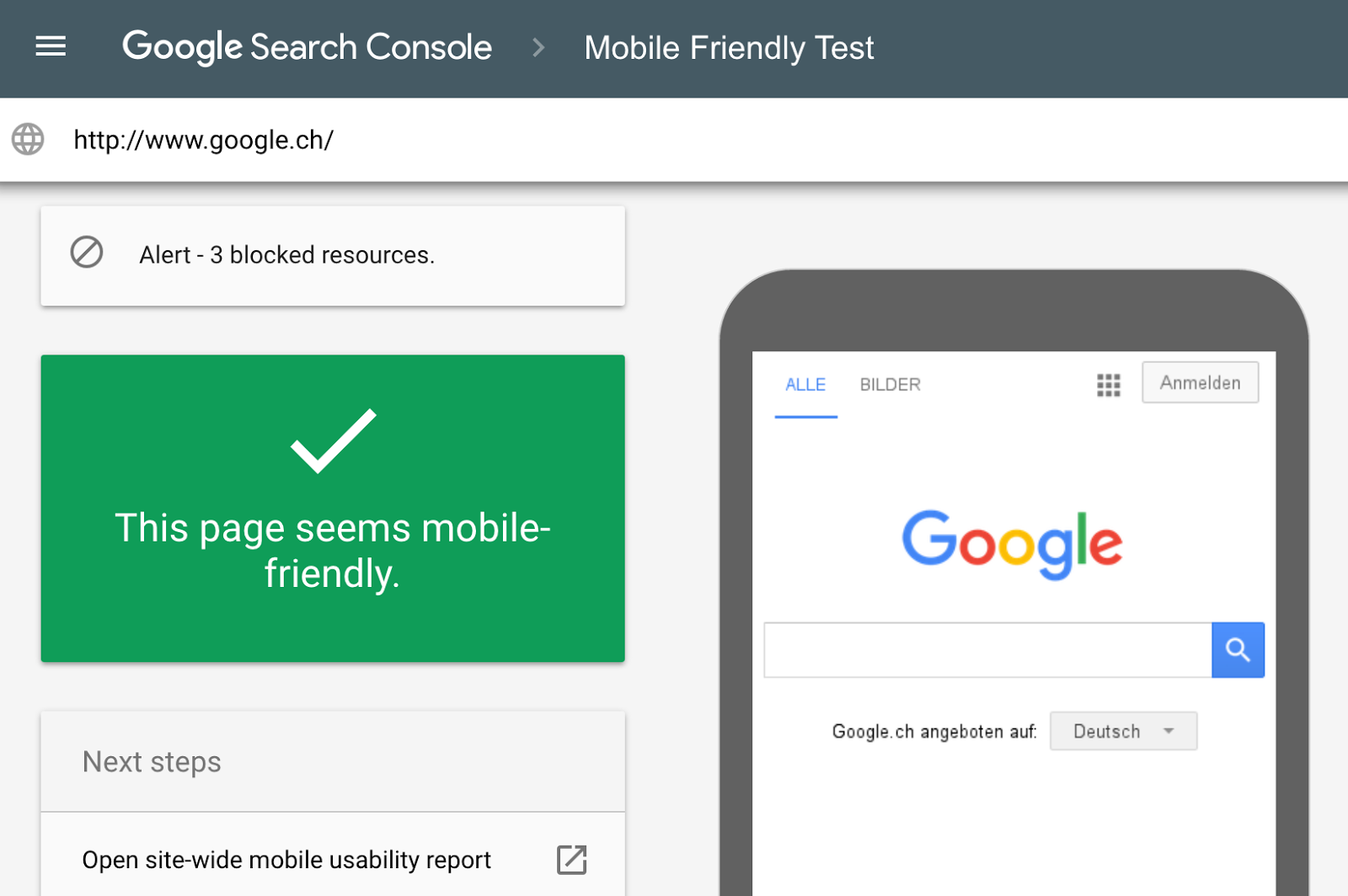 Google Mobile-Friendly Test (FREE):
A very good majority of the global population accesses the internet with their mobile phones. So, most people who will be visiting your website will do so with a mobile device. Therefore, owing to some of these reasons, the importance of having a mobile responsive website will only continue continues to increase. With this particular tool, you can test the mobile friendliness of your website. 
Google Page Speed Insight (FREE):
On a very important note, your website loading speed is a confirmed ranking factor by Google. The PageSpeed Insights tool measures how the page can improve its performance on both desktop and mobile.
Implementing the suggestions you see on the tool from your analysis will improve the performance of your entire website and the user experience.
If you're very serious about taking your blogging career to the next level, then this is a must-have plugin for your WordPress site (that is if you care a little about how your website turns out in terms of Search Engine Optimization. 
This particular tool will optimize your website structure, your content and internal backlinks. The premium version of this tool comes with multiple focus keywords, better internal link suggestions and automatic redirections when you delete/change a post so you will not lose any traffic.
This is very tool is one of the best and most versatile tools available for SEO. You can use it to find which keywords are getting more searches by users in a given region so you can target the ones with the most searches. It makes it very easy for you to discover which topics are hot in your industry and/ or in your region. You can then go ahead and can create content around those topics. You can also do newsjacking with this tool by checking the hot news and write content around them.
Google Structured Data Testing Tool (FREE):
You can use this tool to test if your content has correct Structured Data Markup info. You can add Structured Data about your website, your organization, reviews, music files, restaurant menus and much more. 
Google Keyword Planner (FREE): 
This is one of the most popular Keyword tools and remains one of the most accurate free SEO tools available. You can check for Keyword Monthly Search Volumes (MSVs) and the difficulties in one easy-to-use dashboard. 
This helps you to choose and discover some easy to rank for (or highly searched) terms to build your content around. You can use this particular tool to research thousands of keywords as well as create plans that you can execute upon; the most exciting part is that it's 100% FREE!
This is another free and easy-to-use tool for businesses and organizations to push their brand online and manage their online presence across Google, including Search and Maps.
By simply verifying and editing your business information, you can both help customers find you and tell them the story of your business, even as you also directly sell to them.
This is a very powerful and highly effective website auditing tool released by Neil Patel. One of its major functions is that it offers Keyword suggestions, Competitor analyses (backlinks, keywords they rank for, top pages), and SEO audits. 
Another major thing is that it's very similar to SemRush's. So, if you can use Semrush, then you can use Use Ubersuggest. This is the most perfect tool for small bloggers because it offers all the relevant data and is very affordable too.
This is majorly for professionals but you can use it as a newbie because it's easy to use. It's a powerful software research suite designed to provide digital marketers and online businesses with competitive data to help them make marketing and business decisions. 
Ahrefs (FREE for 14 Days and $99 Monthly):
This is an essential tool if you are a serious content marketer or SEO expert. It will give you tons of insight into what your competitors are doing; that way you can be able to make more informed marketing decisions. 
7. Outsourcing (Where you can hire people to work for you
Fiverr: When it to sourcing for freelancers to handle your job on professional grounds, Fiverr is the market to go to. You can also sell your skills and services here (provide you're ready to give nothing short of quality. Click here to get started!
9. Tools & Services for Email Marketing:
ConvertKit

 

– This is one of the best email marketing tools you can get out there. What's more? It's specifically built for bloggers and I recommend it because I also use it and my friends do as well. As a beginner, I recommend this email service to you; if you're also at the intermediate or 'pro' level, then you can also try it out. But one thing is certain, ConvertKit is one of the best you can get anywhere. Once you Signup, you'll get a FREE plan up to your first 1000 subscribers; which also gives you access to Landing pages, Lead Magnet delivery, Tagging and Automations as well as free tutorials.
10. Tools for Social Media:
CoSchedule

 – This is an essential blogging tool that you can use to manage your social media messaging, blog post-publication and an editorial calendar – all from within WordPress. It's really beautiful. I think you should give it a try. 

Click here to Signup

.
11. Productivity & Team Management Tools:
Evernote

 – This is a virtual environment where I manage a lot of my brainstorming, note-taking, capturing of ideas, drafting of blog posts and much much more! 

(They have FREE and paid plans)

.

Trello

 

–

 This is a very powerful tool for communications and project management. If you have a team, you'll find this very useful.
12. Other Blogging Tools:
Here are ways to make with your website– When it comes to Making Money Online there are several ways to go about that. I covered a few of them in the post attached to the link above and I can only cover a few here (on my toolbox page) as well no matter how much I try; or even how much I'd love to. So, let's look at a few popular options here:

AdSense

 – Googles Ad network – one of the most used monetization strategies for bloggers.

Amazon Associates

 – make money recommending products from the biggest online store.

Recommended Reading: You can follow this article if you're very serious about Making Money Online: Click here to read the ONLINE MONEY ARTICLE.

 
Every week I'll send you blogging advice, tips and FREE business tips from me to help you grow your business faster. 
Disclosure: In the interest of being open and honest, I would like to state categorically here for the last time that some of the links on this page and my website are affiliate links. This simply means that I will receive a little commission (at no extra cost to you) would you choose to use or purchase that specific product or service. In fact, in some other cases, you may even get a discount on the purchase price simply by using my link. I will only recommend products and services that I use myself or have free good friends and colleagues in the industry who use and trust such products. Very importantly, most of the products/ services that I recommend here are FREE!
Hey, I'm the founder: Fredmacs House of Artistry & TheOnlineMillionaire (a platform that is dedicated to helping businesses establish and grow their brand online; as well as increase their reach, gain visibility and learn the different ways they can maximize their business earnings without breaking the bank).
-Nwosu Ugochukwu L. Fred