How to Start a Website: A Detailed Guide to Purchasing Your Cheapest Domain & Hosting In Nigeria
Once you've made the decision to start building your website/ blog after brainstorming and choosing your preferred domain name and niche, you need to sit down first and learn 'How to Start a Website' and figure out where to get the cheapest, reliable and most efficient web hosts available.
The next thing you need to do is to start your domain & hosting purchase process, you can click here: smartweb.com.ng or qservers.net


Initially, I was using hostgator.com and bluehost.com but now, two of my major websites are hosted on two of Nigeria's top web hosting companies that I mentioned earlier; these companies I must say are very exceptional. I sincerely think that if you want to learn how to start a website, you should start with any of the two hosting platforms.
I can recommend them to anyone anytime, any day! I feel more comfortable using their services. I also pay in Naira through bank transfer, direct deposit or even through my credit card using paystack.com (an online payment solution).
For the purpose of this domain purchase training in this post, we'll be focusing on smartweb.com.ng which happens to be a Nigerian web hosting company; and about the oldest (probably over 17 years in business) and the most effective web hosting company in Nigeria (from my personal assessment so far).
In case you don't want to go through the stress of purchasing hosting or creating your blog all by yourself or maybe you just simply want something very cool like mine, you're free to contact my company via www.theonlinemillionaire.com.ng so that my team can deliver to you that dream blog you've been waiting for.
We'll deliver your website/ blog within 7-working days after receiving your payment. One of the biggest mistakes you can make as a blogger is to buy hosting from an unreliable hosting company because sooner or later when the issues start coming up, you'll have no choice but to migrate your entire website to a more reliable hosting company (which makes no business sense at all).
So, in the next few steps, I'll be showing you my fool-proof approach to purchasing reliable web hosting and a suitable domain name for your brand new 6-Figure generating blog all by yourself.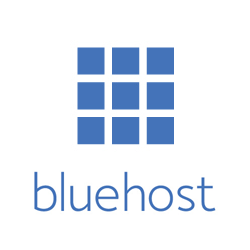 If you have an average budget, then you can use Bluehost. It is the only host approved by WordPress and is one of the best in the world (if not the best). So, if you're a freelancer or a business owner out there you must have a personal website showcasing your own business, or brand to help you simply reach the world with your message. Bluehost makes it easy to own a website just with a single click almost everything is ready. 
Now, let's go ahead and purchase your domain + hosting.

What exactly are you supposed to do now?
Your responsibility is to follow the process carefully and purchase your own domain/ hosting (which should be the starting point towards building your own blog).
Step #1. Pick a name for your website, buy a domain & hosting:
Don't forget, we're still talking about how to start a website. According to Wikipedia, a domain name is an identification string that defines a realm of administrative autonomy, authority or control within the Internet. Domain names are used in various networking contexts and for application-specific naming and addressing purposes.
Going deeper into this explanation, I would say that a domain name is like your online address which makes it easy for people to access your website on the internet from wherever they may be in the world. Whereas your hosting account is where your blog/ website information like texts, pictures, videos & audio are stored (in other words, where you store your website files).

For the purpose of this training as I earlier explained, we'll be using a company called smartweb.com.ng
When learning how to make a website, picking a name is probably the most fun aspect of the entire process. One of the reasons is because you're at liberty to pick literally any name you wish for your website (but you must be guided though).
I'll have you know first of all that, there are nearly 2 billion websites online (at the time of writing this article). This means, that staying original can be quite challenging for everyone (especially for newbies without a solid focus on what they're about to build).
It's a really great idea to customize your website's name around your personal name (which is my first choice) or the name of your organization (which is my second-best approach) or a phrase that's associated with your chosen niche, but with some added words for better "brandability".

In short, a good domain name should be:
▪ Brandable – Unique sounding, like nothing else that is out there in the market.
▪ Easy to memorize – it's simple.
▪ Short – Not too long; so to avoid sounding like a broken record.
▪ Easy to type and hard to mix up – You don't want people to be wondering how to pronounce your site's name.
▪ Can include niche-related keywords – For instance, if you do anything with pizza, it would be cool to have "pizza" somewhere in the name of the site; it works the same in non-pizza industries as well.
However! There are still some things you need to understand to set yourself up for success later down the road if you seriously want to learn how to start a website. Before you proceed, I want you to understand that there are different kinds of extensions for domains like .com, .net, .org, .com.ng, .ng etc. And the price for each of these extensions varies. But the truth about it is: If you want to have the best and most trusted type of extension, then go for .com
If we're going for a .com.ng, for instance, you'll usually get a free domain (when they have a promo going on) and pay only for your hosting. This offer was designed to support upcoming bloggers and website owners to conveniently create their own personal platforms with very little budget.
If you have an existing domain, you can just go ahead and buy hosting to add to it so that you can start building your blog right away.
However, if you have not yet decided on your choice of domain, this article will lead you by the hand to help you do just that. Since this is sounding like too much work already, you can make the job easier by checking out some of the cool domain name generators below. Start by inputting a seed keyword that defines your website well.
You can also use any of these free services: NameStation, BustAName, even LeanDomainSearch or even domainwheel to find a good domain name; but in this case, we'll be using DomainWheel to search for our domain name.

DomainWheel will return with some suggestions. You can narrow it down from there to find your perfect domain name. The next step once you know which domain name you want is to register it and also buy a hosting package in one go.
C'mon! Let's go!
(a). Mode of Payment:
There are several ways you can make payment when trying to purchase your domain name and hosting plan depending on the company you're buying from. But as I earlier stated, for the purpose of this training, we'll be focusing on smartweb.com.ng
To make purchases on smartweb, the several available payment options they have are as follows:

▪ Bank deposit
▪ Bank Transfer
▪ Credit card payment
▪ Online Payment processing platform (Paystack).
Be sure to secure a GTB Naira or Dollar Master card for all your online transactions (if you're in Nigeria) because they work better. You can also get virtual credit cards from WalletsAfrica, alat.ng or getbarter.co which is today known as Flutterwave. Fund the card and run your transactions from there conveniently.

For further information on all of the companies that I have so far mentioned in this article and still to mention, go to Google and research further on them. You can also use your Payoneer card (if you have one with enough funds in it).
You can also approach your bank to find out if they have an account that is specific to people who buy things online or do business online and then you try to take advantage of that offer (if any) to advance your business.

Now, let's proceed with the domain name purchase right away!
(b). Purchase your Domain Name:
Go straight to smartweb.com.ng and create your client account.

In the previous pages, I already mentioned a few things about our choice hosting company: smartweb.com.ng and by now, I'm quite very sure that you understand the company to some extent.

I know how intimidating stuff like buying a hosting package might sound at first, there's really nothing too serious about it and I don't think you should worry about it either.

I'm going to apply a screen-to-paper approach to make you have a kind of feeling like you're watching the process on a screen. Before we proceed further, what is hosting anyway?
There are numerous companies that can register a new domain name for you. Then, there are also tons of companies that can sell you a hosting package. However, we should avoid complicating issues for ourselves and instead buy both our domain and hosting from a single company; and in one go. This is why we're going to use smartweb.com.ng; but let's look at other reasons why we should consider buying from smartweb.com.ng:
These are a few of the reasons why we'll be using smartweb.com.ng:
Smartweb is a reputable indigenous (located here in Nigeria) web host that is optimized for WordPress and will make sure that your website/ blog runs smoothly with no issues.

It's been around for over 15 years
▪ It's very cheap (from N600/month)
▪ It's user-friendly and super-easy to use.
▪ You get a domain name for free at some points 
▪ They have some top clients all around the country

Here's what's going to happen now: Go to smartweb.com.ng and click on Domains.

Or you can simply scroll all the way down to the bottom of the page to click on "Domain Registration". See image below:

You'll be prompted to the next page to check for the availability of the domain name that you've chosen. See the image below:

Once you click on the blue "Search" button, it will lead you to the next page.

As you can see, your chosen domain is available for purchase. So, go ahead and click on the blue "Add to cart" button. Immediately afterwards, you'll be prompted to the next screen.

On the next screen, you'll be asked to either use your existing domain or buy a new one; so, choose your existing domain (the one you did an availability search for). See the image below:

On the next screen, avoid the small box next to the "dedicated IP" stuff.


On the next screen, just tick the two specified boxes below and hit the "Continue" button. See the image below:

Immediately afterwards, you'll be prompted to the "Checkout" page. Go ahead and review your order. Then hit the "Checkout" button.

On the next screen, you'll be requested to fill in your personal information so as to create your client account with smartweb. See the image below:

At this point, the next thing you need to do is to complete your order so that you can process your payment and get done with the entire process.

On the next screen, you'll see your payment invoice automatically raised for you by the system, go ahead and click on it to make your payment. See the image below:

Enter your credit card details in the following screen to process payment for your order. See the image below:

Click on the green payment button to move to the next page where you wrap it all with an OTP from your bank. See the image below:

Yippie!!! Your payment is successful. Now you can confirm that there's nothing really too techy about it after all.

You'll be automatically redirected to your brand new "Client account" where you'll see your order confirmation and invoice number for payment. See the image below:

Hoping to see you kick off your 6-Figure Blogging career. Click here to start: "The 6-Figure Blogging Manual".
< >

Goodluck!
TheOnlineMillionaire