Are you among those searching the internet consistently to learn How to Create a YouTube Channel? Are you struggling to create a channel on YouTube? Well, you need not search any longer. A lot of people find it harder to learn how to create a YouTube channel than creating an account on other social networks. However, it doesn't have to be this way.  This 2021 beginners guide will show you what to do.
Now, for your notice, YouTube is owned by Google and is the world's most visited and ranks second after Google (which happens to be its parent company). So, in view of these facts, I sincerely think your brand/ business should have a presence there to enable you to earn your fair share of organic traffic.
If you understand that YouTube is the world's second-largest source of organic traffic, then you'll begin to see and appreciate the massive opportunity to reach your audience globally using YouTube as a vehicle. Not just that, Youtube is also one of the most popular social platforms among the US adult population. Nearly 75% of Americans use YouTube (and more than half of these users visit YouTube every single day), as against the 69% using Facebook.
The truth is that setting up a new YouTube account isn't really difficult, but creating a successful YouTube channel requires some impressive volume of work… but don't worry, we've got you covered there, too.
However. in life, we have spectators whose job is to sit and watch those making things happen. So, choose where you want to belong. Do you want to belong to the class of people watching other people who are action takers as they change the world around them; or do you want to become the one who creates the mag[c and brings the fire?
Whatever you decide on becoming, YouTube is the perfect platform to achieve that goal. Vlogging currently has become one of the hottest careers in our present world, especially in the past decade. I'm sure you want to become the biggest YouTube vlogger in your industry or the next Casey Neistat but the question remains…  How can one create and grow their YouTube channel to turn out successful? This is what I'll be teaching you in the rest of this article.
How to create a new YouTube channel 
Creating a successful  YouTube channel starts with knowing the right thing to do and the right place to start from, and the right place to start from is your Google account.  
Now, here's how to create your account the professional way to set the process for success.
Step 1: Brainstorming and preparation
(a). Research
Going by the popular adage credited to Winston Churchill: "He who fails to plan is planning to fail." It has become very evident that everyone planning to build something worthwhile must first calculate the cost of that which they intend to build and plan on how they intend to achieve it within record time.
The situation is not different when it comes to setting up your YouTube channel to help you kick off a career in Vlogging (except otherwise, you don't see it as a business). When it comes to creating a professional YouTube channel and having a successful Vlogging career, research is key! You can start by analyzing some high-performing Vloggers (to find out the things that they're doing which made them turn out super-successful). You can do this by selecting and concentrating on their most popular vlogs, and watching them carefully to study everything they did right.
When studying their content, what are those things you should focus on? 
Learn how they start and end each vlog? 
Do they feature any songs in their content? If yes, what type of content?
Which of their videos receive the highest engagement? 
How frequently do they post?
What time of the day do they normally post?
Study their vlogging style and find out what makes it unique? 
How do they write their title and descriptions?
What is the average length of their videos?  Below or above 10 minutes? 
What is the style of their communication with their audience? 
Are they confined to a certain way of producing their content or highly expressive with their creativity? 
What is the ratio of their like-to-dislike? Is it growing or simply stagnant?
By properly researching and analyzing some of these little factors specified above, you will quickly begin to have a deeper understanding of how things work in the Vlogging industry (YouTube Vlogging to be precise). The knowledge you'll acquire from carrying out this simple research will also help you to improve your vlogging style as well (so you can have results like others as well).
Your next line of action should be to figure out the exact things that you really like about the channels you're examining. What were those things that thrilled you instantly as you came across their content? Are there also some things that really annoyed you while watching their video or going through their entire channel?
The pen is your best friend and most resourceful personal assistance; so write observations down immediately you notice them so you don't forget. Also, ensure you see their comment section to sample other people's opinions concerning that particular piece of content. 
However, be unique and don't copy anybody's content. Use what they're doing as a guideline for the unique content that you intend to create. Why you need to do this is because you cannot afford to start off a wrong note. They've made all the mistakes and recorded all the victories for you; so earn from their experience and get inspired to do some more amazing. 
The most interesting thing about YouTube is that it allows you to YOU! So, pick up that niche of your choice and start dominating it straight away with your unique content.
(b). Define the core purpose of your channel
Now, that you're done researching the industry where you want to want to build and grow your vlog, observing all the successful channels to discover what makes them tick, the next thing you'll need to do is to determine the specific type of vlog that you would like to create. The easiest way to gain clarity on the specific type of blog that you need to create for yourself/ brand is by asking yourself some of these very important questions:
What do I intend to do with/ or in my YouTube channel/ vlog?  
What do I want to say? 
Is my channel going to focus solely on me or will it accommodate other people? 
Do I want it to be a general opinion vlog or a niche-specific vlog?
You see, so you can vlog about just anything; I mean just anything! That's what makes it very interesting. You can simply start vlogging your days and capture your normal daily activities which involve cooking, eating, getting ready, Stepping out, shopping, working, exercising, and so on. Over time, you'll start gaining subscribers and as that begins to happen, you can figure out ways to introduce other new appealing content to make your vlog more interesting to your subscribers.
Look at reality shows like "Keeping up with the Kardashians", "BBNaija" etc, such programmes just captivates you and gets your eyes glued to your TV set watching people brushing their teeth, bathing, eating, and just literally living their life. So, what makes you think you can replicate such on your YouTube?
One major thing about putting your face out there is that over time, people will come to appreciate and love you for who you're and many of them will always look forward to seeing you or hearing from you. This is the reason why you should create and upload content regularly. The same reason why musicians release songs every now and then, same as movie producers; because without fresh content, you'll be forgotten, your brand will die naturally and you'll lose your audience. When this happens, you've lost your voice!
So, now you might be asking: How do I get started with creating my videos for upload on YouTube? For instance, you want to make a video on a specific topic like: "How to edit a video for YouTube" you'll most likely find it very difficult to come up with (especially if you've never done it before). So, in a case like this, what do you do?
It's very simple. Spy on other vloggers work and draw inspiration from what they're doing on their YouTube channels. This way you'll never run out of ideas or even get stuck trying to figure out what to create.
Another thing you'll need to put into consideration is how often you upload your content. For example, would you like to upload your videos on a daily basis, weekly basis or monthly basis? Whatever you decide, you must ensure that you're consistently uploading videos to your channel.
Once you're sure you've got clarity concerning what direction you want your channel to move, then the next thing you need to do is to focus on finding the target audience.
(c). Find your target audience
To uncover your target audience, the first thing you need to do is to make a clear mental picture of the exact type of viewers you want to attract. This will help you to better understand who your target audience is; this understanding will help you know exactly what they like/ or dislike. This is very important for anyone who intends to starting any type of business.
Step 2: Create a Google Channel
As I earlier stated, if you're considering starting a YouTube channel, the best place to start from is by creating your YouTube channel. However, the process is simple and I'm going to walk you through it step by step.

To start creating your YouTube vlogging channel, click here to access the channel creation page: https://www.youtube.com/create_channel. If you don't have a Google Account yet, then you're required to get one because you can never be able to create a YouTube channel without it. So, if are very serious about it about then go and get your Google account
Create a Google account
To create a Google account, you will need to have a functional email account on Gmail, Google Maps or Google Play account, so if you already have any of these, then you probably have a Google account. But if you're unsure, you can go to Google and search for: "How to create a Google account".  The Google account is your key to get into YouTube, create an account and keep it secure.
Then you need to type in your name and surname, as well as a password you want to use. Once you have filled in these boxes, you'll receive a confirmation mail. 
After that, you'll be required to fill in your personal information like gender, birthday etc, and you agree to the terms of use. Once that is done, your Google account will be created. 
Then go straight to your YouTube and select the "Create a YouTube channel" option in the top right corner.

With your Google account, you're automatically set up with a personal YouTube account (that's how Google made it). However, to use YouTube for your business, you'll need to set up a Brand Account.

Step 3: Create a YouTube account
When creating your account, the first thing, you need to think about is a suitable name for your channel. You also have the option of using your own name like Patricia Bailey, Iyanla Vanzant or like mine an alias TheOnlineMillionaire or creating a new name based on the type of channel you want to have.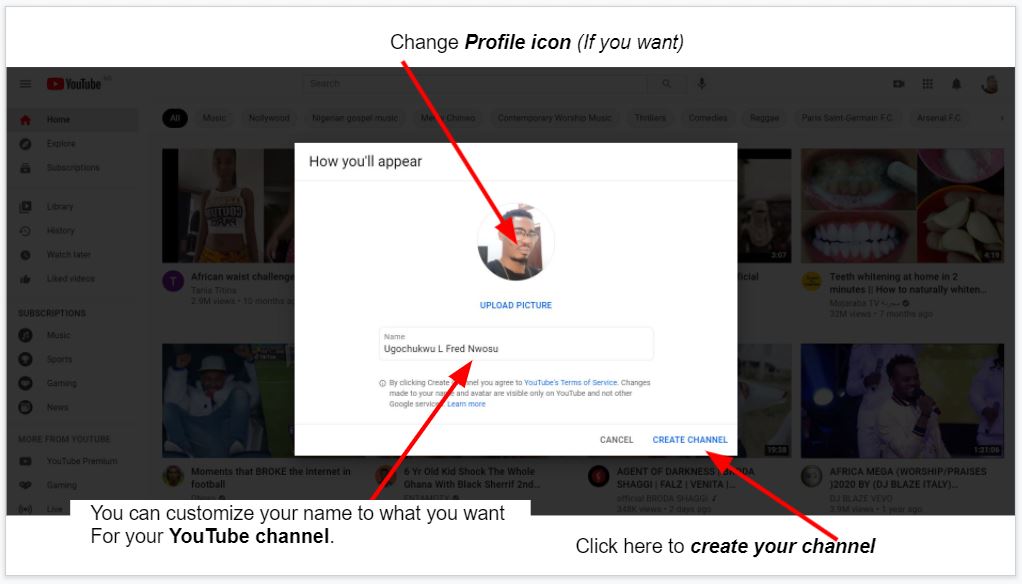 To do this, just go to your YouTube account page, locate your profile icon at the top right corner, click Create a Channel, and then enter a name for your Brand Account. Automatically you'll be logged in to your brand new YouTube account!
Creating a YouTube Brand Account will enable you to give multiple people admin access and also customize the name and appearance of your channel to match whatever type of brand that you're trying to create. 

Another beautiful thing about Brand Accounts is that they allow you access to YouTube Analytics, which gives you helpful insight into who's watching your videos and what content is the most popular on your channel. That well you can easily see how well or badly your channel is faring and also effectively tweak things up to improve your channel speedy growth.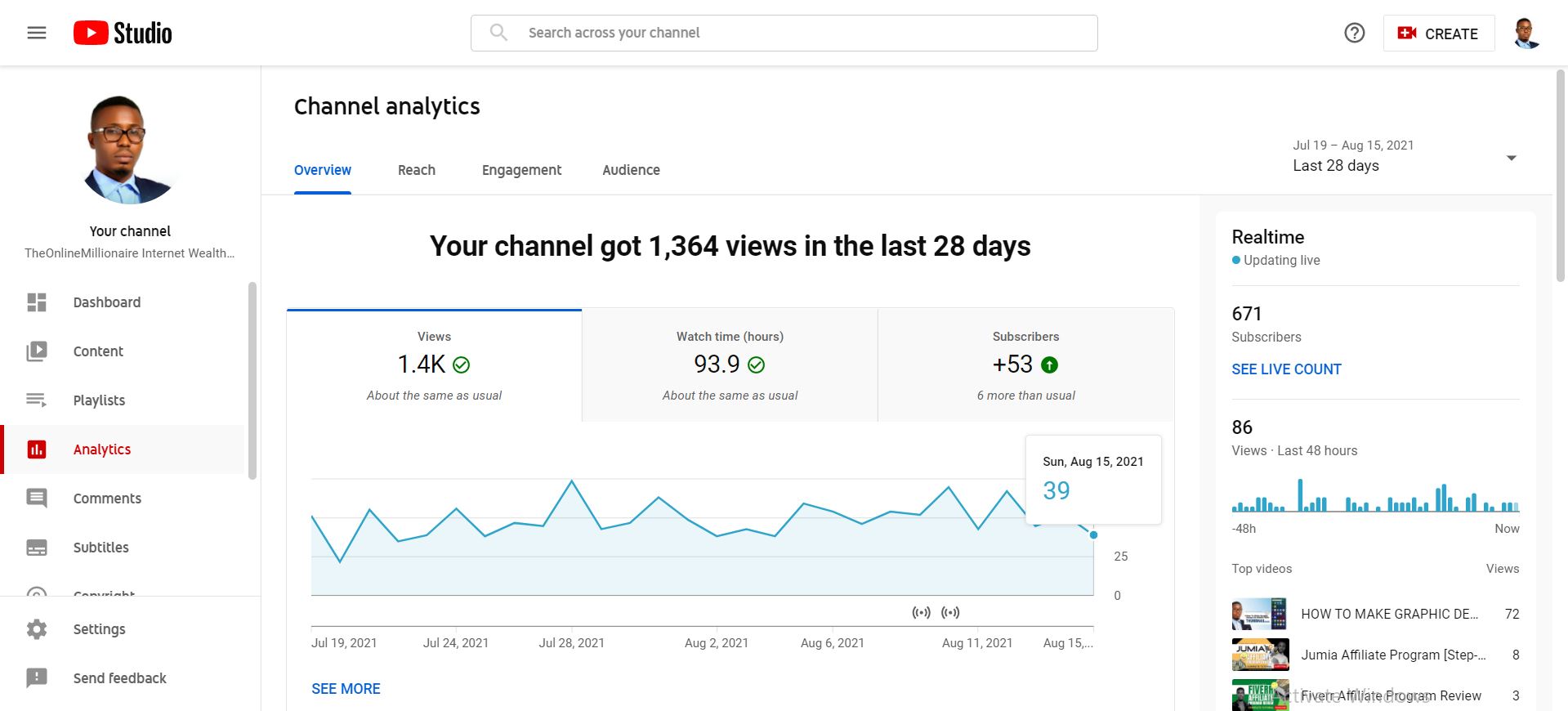 Step 4: Brand & Customize your YouTube channel
Some people would normally opt to use their legal names when setting up their YouTube channels. For example, Patricia Bailey, Iyanla Vanzant, Marie Mbouni, Patrice Washington, Chidinma Ekile etc like I mentioned earlier. So, whatever works for you is just fine. Trust your instinct and choose what's natural and comfortable for you. You can also just go with an alias. 
Now, we're going to create a brand new channel on 'Spirituality' and I will name it 'The Sounds of the Eastern Wind'. Another important thing to point out is that it's completely it's ok to want to keep your identity private (for whatever personal reasons).
At this point, you need to pay attention to three major things which are:
Your profile icon
Your channel art/ banner
Your channel description
It's very important that you understand that your icon is very critical of how people perceive your brand. So, it's very important that you plan properly when choosing your brand icon as it can help you grow your brand fast. In plain terms, your channel icon represents your channel. Therefore you plan on creating vlogs for wildlife preservation,  then you can use a vector image of a Polar BEAR or Tiger as your icon. For something like Travel vlogs, you can upload a picture showing a cosmopolitan city skyline with a plane passing over it.
You must not necessarily use your personal pictures. I'll assume you're a complete novice who knows nothing about anything. so I'll suggest you save yourself the unnecessary expenses (because you might not even have a startup budget in the first place). So, go need to go to Free Logo Design to create a professional free logo for your brand.
Whether you're using an ordinary picture or a logo as your channel icon, please ensure they're properly cropped. Once you're done with that, just relax and allow YouTube to process it. Be patient and wait for your new channel icon to show.
The next line of action is to create channel art. You can select this option after clicking on "Customize channel". 
Go to Canva Create Your Icon and Channel Art 
At this particular level, you need to work creating your icon, and channel art for that new channel; with that, you're free to start customizing your channel to taste. To get started, once you're done creating your channel art and icon on Canva, you need to click on the icon in the top right corner and select "Your channel". This will lead you directly to your official channel page where you can begin to customize your channel icon and your channel art.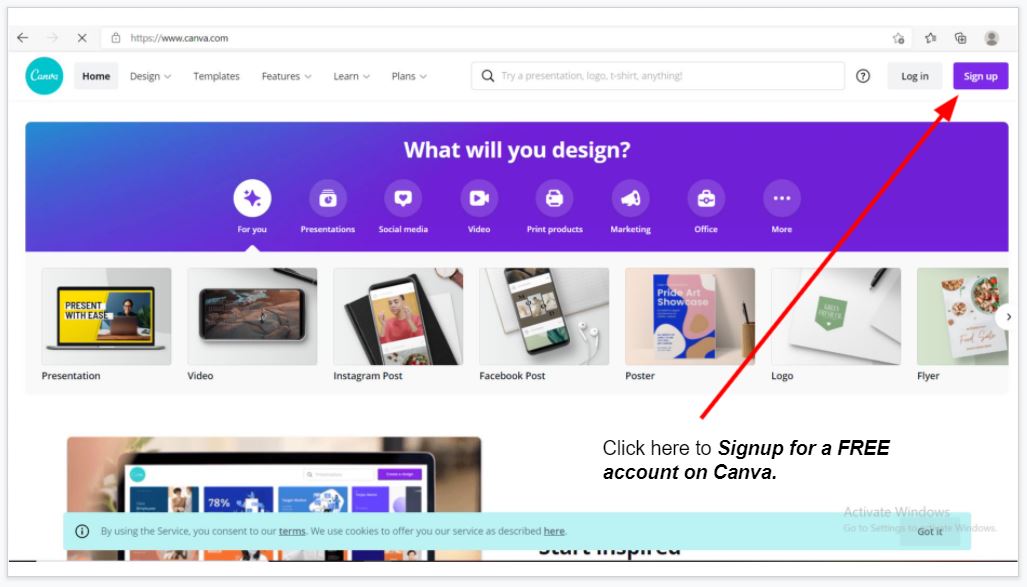 Click on the Signup button above to commence the process of creating your new account on Canva.

Immediately you sign in you'll be prompted to Start your first design with Canva. You can search "Youtube Channel Art" and it will lead you directly to templates that can help you in creating the design you need. 

The most interesting part is that you're also at liberty to use any of the Free pre-templates or upgrade to the pro version to maximize the opportunity that this platform presents on a platter. All you need is to find any template you love, then, you can fill out the boxes with your own information concerning your channel. You can completely redesign it within few minutes by adding texts, elements, and additional photos.

To do that, we need to go straight to Canva.com and create our channel art and then use it to brand our account once we're done.

So, if you don't want anyone who knows you to find you on the platform, you can simply use a pseudonym or a nickname as your channel name (without your face to it).

Download your artwork and use it as your channel banner. If you want to use a logo or a professional copyright-free image as your profile icon, you may do so.

It's very understandable that it's not everyone that's comfortable with showing their face on camera. However, if you fall into this category, you can become more confident and popular as well.

Then, you can decide to slam your face and name on that channel or simply change the name whenever it's convenient. Now, you're set to customize your new channel to taste!

Once you're in your channel dashboard, go ahead and hit the "Customize channel". Click on the three tabs: Layout, Branding and Basic Info respectively to enter the suitable information required to help you customize and optimize your channel for audience discovery.

When customizing and filling out the required information here, ensure you use descriptive keywords that will help your account to become more visible in searches. To get the best of this, you'll need to understand how to uncover some winning keywords which can include the topic of the channel, your industry of choice, products featured, questions your content provides solution/ answer for.
How your channel/ brand turns out is totally up to you. Depending on your taste, you can have a world-class channel within a few months or a mediocre channel. Either way, it's up to you to decide. So, you're at liberty to design your channel art and icons however you want to set your channel apart from the regular. Ensure that you project the brand to align with the type of brand that you want to create.  Make sure you also connect the channel with your other social media platforms to give it more visibility.
Optimize your channel's description
The next most important thing you need to do is to write a very compelling channel description. You can also change your channel's description at will under the "Basic info" tab on your Channel's page. 

Step 5. Get The Right Equipment
The important thing you must know when starting your vlog is this: No matter how rich your content is, the fact remains that if the quality of your video is very low, nobody will be interested in watching that. People watching videos in high quality and to achieve that, you need to focus on getting the right tools and equipment for you.

Having established this very important point, it's also very necessary you understand that you don't have to break the bank before you can have a quality production. I will show you exactly how to start with a very budget or even zero budget as a beginner.
So, how do you find the right equipment on a low budget? 
Well, you don't need to spend your life savings on expensive equipment just to start vlogging, there's another way to do that. However, you need a quality whether that of a mobile phone or a professional camera. Visit the links below to check some of our recommendations for the best types of equipment to help you kickstart your vlogging career.
For Camera: Click here
For Tripods: Click here
For Headphones: Click here
For Alternative Power Supply: Click here
For Microphones: Click here
For Phones with Quality Camera: Click here
I personally started my vlogging with just my phone. I recorded most of my videos with it. So, if you are low on budget, another smart option would be to use your phone for your video production as a newbie blogger or better still, borrow a professional camera from someone you know or simply hire one.
Another thing you must do is to improvise during your production. Allow your creativity to come to the fore. Once you start gaining more subscribers and getting paid, then make it a point of duty to invest in better equipment.
But if you have some little money to start, then I'll recommend you go for a Canon M5O camera and Rode VideoMic Pro R. 
Step 6: Prepare Your Video
Now, to get this right, you must create a content plan. At this very level, you need to focus more on brainstorming ideas about what exactly you want to film. Do not forget that it must be related to your chosen niche. 
So, the first question here should be: What exactly do you want to film for your vlog?
You must sit down and develop different video ideas and write everything down (remember, nobody will do this for you). You need to create a content plan at least for the first 1-3 months; doing this relax the pressure and make your filming experience less stressful. 

Try and be as natural as you can in your filming process and edit your content to taste afterwards. Your next line of action is to hit that record button and record your first video.
Step 7: Film your first Vlog
Now that you've been able to put your video creation ideas together in one piece, it's time to turn that collection of ideas into quality content that you can easily monetize.  By now, I'm very sure you already have an idea of what you want your vlog to look like. So, without wasting much of your time, I think it's time you get started with vlogging. Find below the 4 simple tips that you need to get your vlog off the ground. 
Professional tips for recording your first vlog 
Don't get uneasy trying to over-plan the recording: You have to make your recording as natural as possible. Once you press the recording button, speak your mind straight up! Don't forget, you can always cut off the unwanted parts during the editing. So, don't allow analysis paralysis to grind you to a halt while you bleed yourself to death trying to achieve perfection which you'll attain.  
Ensure you have good lighting and top audio quality: Once you hit that 'record' button, ensure to speak in very clear terms without being silent for too long (don't worry too much about what you sound like. You can always edit whatever you feel you don't want out). If you're recording during the day, then you have to take advantage of the daylight (positioning your camera in front of a big window that you can use as your source of natural light). Alternatively, you can use artificial lights if you're recording during the night.
Make a preview for your video: There's this feeling that people derive from being able to decipher what your video is all about to let them know if it's worth their time. First of all, gives them the impression that you're sincere about what you do by giving them the opportunity to decide whether to engage or not engage your content. So it's always a good thing to let your viewers have a little insight into what your video is all about by simply giving them a little preview to increase their interest in what you have to offer.
Communication is a two-way thing, so interact with your viewers: One thing that makes vlogging very powerful is that it allows you to connect with your audience on a more personal level. So, when vlogging, you must understand that you need to engage with your viewers, you need to ask about their opinions on the issues you're discussing.  Tell them what you want them to do by reminding them to leave comments and subscribe (if you don't tell them, they'll hardly do that), and when they d0, make sure you respond to their comments and do so promptly. 
Open your video and also sign off with a unique personal phrase or gesture: This will help you to create a memorable brand in the mind of your audience and at the same affords you the opportunity to personalize your videos online; make your channel a proper channel with branded videos. Almost all successful vloggers and YouTubers you'll meet have their own unique phrase or gesture they use to end their vlogs.
Step 8: Edit Your Vlog
If you're really serious about vlogging, then you must learn how to shoot your videos as well as how to edit them. If you can't learn how to do these two or are unwilling to do so, then you must set aside a budget to help you hire people to do that for you and it's not cheap!
So, if you think you have enough video clips to make a vlog, you can start editing your footage and putting the clips together. There are various editing software but I'll recommend you start with Camtasia. Some computers also come with their own free editing software. To learn more about some of the FREE editing software, click here. The type of available editing software that comes with your computer will depend on the type of operating system that you're using. 
You can also learn how to use Camtasia for free: click here!
Edit your vlog
Once you're done filming, your next line of action should be to edit your video by selecting the particular clips that you want and removing the unwanted parts. Make sure that whatever you're selecting is educating, interesting or entertaining otherwise nobody would want to return to your channel after visiting for the first visit. You also need to add your intro and outro for every of your video for branding purposes. 
When it comes to the length of your vlogs, you have to factor in certain indices; which will depend on whether you're making daily vlogs or longer vlogs. So, there's no law here. If you're more concerned about filming short videos for your vlog, then you might have to vlog often; and if you're focused on making longer videos, you might consider vlogging weekly. 
Note: If you'll be making videos that exceed 15 minutes, then you will need to verify your YouTube account via phone.
Export the finished video
This is the final step when it comes to producing video content for your vlog. At this point, you're done filming your ideas, you're done putting them together and tweaking them for the best result. Now, it's time to export the finished work into your preferred video format and afterwards uploading them to your YouTube channel.
Alternatively, you can also use a screen recording and editing software like Camtasia to record your video without putting your face there. It's understandable that some people are camera-shy. Secondly, as a starter, it's not advisable to waste all your money trying to get a world-class production without learning the ropes first. To watch me use Camtasia click here.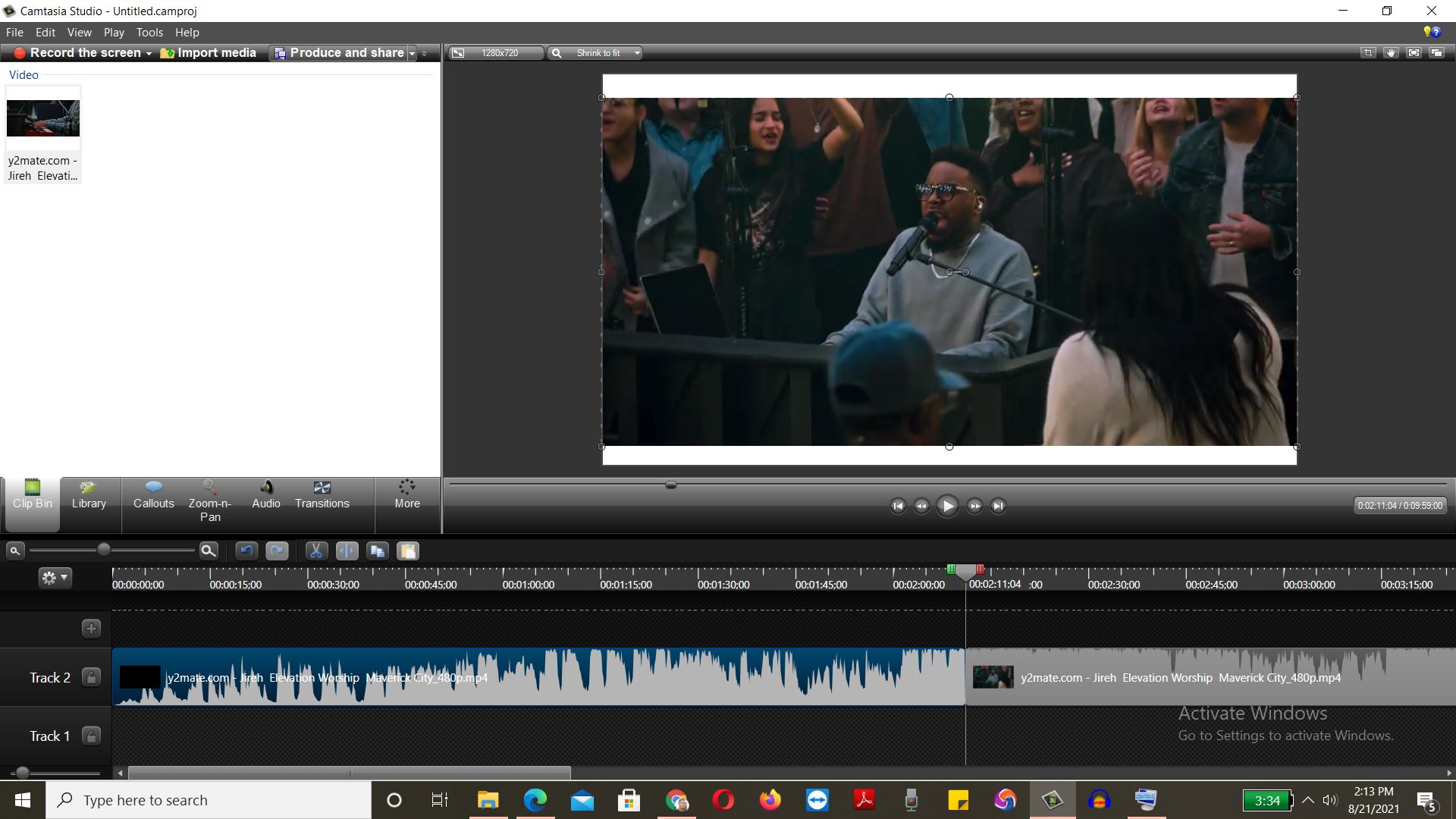 Before you export your video for upload, you might want to find out exactly what YouTube's recommended video encoding settings for uploads are:  click here.
Step 9: Upload your first YouTube video
This is the most interesting aspect for most people in this entire process for most people (including myself when I first started). This is the only step left for you to become a full-fledged YouTube content creator! So, once you've crossed this stage, then you've officially become a YouTuber.
To upload/ create your very first live video for your YouTube channel, hit the Create button in the top-right corner and follow the instructions.

Step 10: Optimize your YouTube channel to make it discoverable
Basically, the major reason you're setting up this YouTube channel and making plans to create some amazing content for it is to let the world hear what you have to say; to see what level of expertise that you have in a given subject or to even to make money. So, if your YouTube channel is not visible to anyone, then the motive for building it is already defeated!  
ff you're serious about growing your channel, then you might consider learning how to get more views and subscribers on YouTube, with this knowledge, you'll understand how to optimize your channel and videos for discovery. If you're also interested in learning how to promote your YouTube channel for better results, then click here for a detailed guide on how to do just that. 
Optimize your video titles with relevant keywords
Once you're done creating your video, the next very important thing you need to do also is to specifically add a detailed, descriptive title to it by including Google-friendly keywords (you must do this for every single video that you upload on YouTube). Why is this very important? The reason is not far-fetched. Titles are the very first thing that users see when they visit your channel. Apart from that, titles are help search engines to understand what your video is all about. So, using related keywords on the title of your videos simply helps that search engines to make them available to people who are searching for related stuffs online.

No matter what you do, never neglect this as your success as a vlogger will depend largely on this. Also, ensure your titles are captivating.
Note: Ensure to make your title very short (under 50 characters), catchy, and highly descriptive. Find a creative way of writing the title of your vlog telling your viewers what your video is about. This will make your video stand out from myriads of videos on YouTube and place you on the screen of anyone typing related keywords for what your video is about. 
Make attention-grabbing titles but don't make it misleading or clickbait! Viewers can report your account If you often use misleading titles and that will earn you a ban from YouTube for violation of their rules.
Optimize your YouTube description
When it comes to writing your video description, you have to be very intentional. You must ensure that it's very clear, concise and descriptive; go straight to the point because don't have time to waste.
Make sure the description is 300 to 500 words and include some keywords (but don't overdo it). This helps YouTube understand your vlog better and recommend it to the right audience.
Using relevant keywords in your description is one of the best ways to attract your target audience to your channel. Using specific keywords helps your channel to come up in search engines, especially in the first couple of sentences that show up on YouTube's landing page. So, ensure you repeat the keywords a couple of times (but find a way to tweak it a bit).
Very important: If your vlog channel is solely about you, make sure you describe yourself in a few sentences. Follow these steps:
Introduce yourself.
Tell your viewers where you come from.
Tell your audience what your interests and hobbies are. etc
Your channel description must contain the sole purpose of your channel, so you must explain what your viewers can expect from your videos. To do this effectively, you must first understand your audience; by so doing, you can effortlessly say what they expect to see from you.

One other powerful way of doing this is by creating a table of content with timestamps to help your viewers find what they're looking for.

The first law here is not to overdo it! You're free to add tags to your video but don't add up some useless and irrelevant tags here just to be seen. No! That's highly unprofessional and you can get punished for doing that. Be very honest here online in whatever you do because is the only currency here. 

Where do you need to add tags to your videos? The answer is very simple: You need to reach only viewers who are actually interested in your content other related content.
Secondly, tags also help YouTube's algorithm understand what your content is about. Make sure to add a category or two that way, you'll be helping the search engine to put your videos in front of the right audience. To learn more about YouTube's Algorithm, click here.
Promote your channel across platforms
Now, that you understand what it really takes to start a professional vlog, the next thing you need to worry about is how to effectively promote it across platforms so you can have sustained growth. So, what must you do now?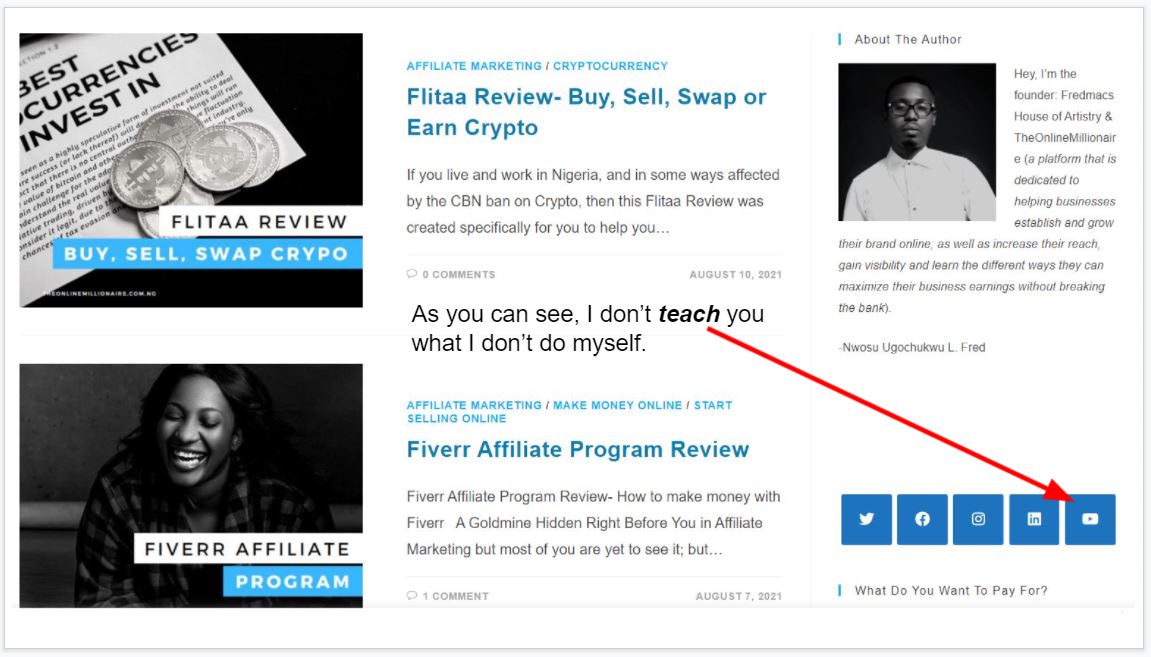 It's pretty simple: Add a link to your YouTube channel on your other social profiles, website/ blog. Attach same below your email signature and let your fans know you have a YouTube channel or planning to start one soon. 
Step 11: Monetize your channel
If you're interested in monetizing your YouTube channel, then you need to apply to be accepted into the YouTube partnership program. After that, once your subscriber base grows and you start getting more views, then you'll start receiving payments from Google as well as make some money off your vlog using the affiliate marketing model.
Click here to apply to the Youtube Partnership Program if you're interested in earning money from ads shown before or during your videos.
What does it take to become a YouTube partner?
To become a partner you need to meet two major requirements:
Have more than 4,000 public watch hours in the last 12 months.
Have more than 1,000 subscribers.
Note: Avoid using any song you don't own the copyright because YouTube doesn't allow anyone to monetize videos they don't copyright to. Therefore, never you make that mistake (even when they say the song is copyright free). 
Explore Affiliate Marketing
You can apply to promote products from some independent affiliate programs or simply signup to some Affiliate networks. Once accepted, you'll be able to get affiliate links from them to promote a specific product or service that is related to what you do. Affiliate marketing is a very powerful way to monetize your videos. You might want to learn a few things about affiliate marketing before you start.
This can happen in two ways:
People clicking to watch your video.
People clicking on your Affiliate marketing links and converting in the process.
Make room sponsorships
Focus on doing the work once your start getting a lot of subscribers, you'll most likely have companies reach out to you in order to sponsor you. At this very point, you must put your integrity into consideration and think critical over whatever it is they're trying to have them promote for you.
You must make sure that the values of such companies align with your principles as a person.
Create and sell your own products/ services

You can create some products to sell. It could be physical products or digital products (it doesn't really matter). Most YouTubers usually create their own merch which could be anything from t-shirt designs, face caps, coffee mugs etc; containing your logo or catchphrase.  When your fans buy and wear your merch offline, they create more exposure for you by so doing.
Frequently Asked Questions FAQs
How much money can someone make from vlogging?
There's no fixed amount of money that you can make from vlogging. However, what you'll make to a very large extent depend on some factors like:
The size of your audience.
The number of views per video.
The watch time.
Number and quality of sponsorship deals.
The number of ads you in your videos.
However, find below a comprehensive earnings list of global YouTube superstars:
The Top 10 Highest-Paid YouTube Stars Of 2020
Net Worth: $200 Million
2020 Earnings: $15 Million
Subscribers: 16.5 Million
Total Views: 2.4 Billion
2. PewDiePie (Felix Kjellberg)
Net Worth: $40 Million
Subscribers: 109 Million
Total Views: 27 Billion
Net Worth: $35 Million
2020 Earnings: $19.5 Million
Subscribers: 28.8 Million
Total Views: 15.4 Billion
4. DanTDM (Daniel Middleton)
Net Worth: $35 Million
Subscribers: 29.3 Million
Total Views: 18.5 Billion
Net Worth: $32 Million
2020 Earnings: $29.5 Million
Subscribers: 45 Million
Total Views: 61.3 Billion
6. Rhett & Link (Rhett McLaughlin and Charles Lincoln "Link" Neal III)
Net Worth: $32 Million Combined
2020 Earnings: $20 Million
Subscribers: 27.9 Million
Total Views: 9.2 Billion
Net Worth: $30 Million
2020 Earnings: $23 Million
Subscribers: 57.5 Million
Total Views: 12.8 Billion
Net Worth: $25 Million
Subscribers: 26 Million
Total Views: 13.7 Billion
9. Ninja (Tyler Blevins)
Net Worth: $25 Million
Subscribers: 24.2 Million
Total Views: 2.4 Billion
Net Worth: $25 Million
Subscribers: 25.6 Million
Total Views: 3.3 Billion
YouTube pays you on a per-view or ad-click basis, therefore the more views you get, the more money you can make. You need to also understand that YouTube keeps around 45% of the ad revenue, and you also need to pay taxes.
Now on average, you'll get $18 per 1,000 views. To learn more about how much you can make with YouTube, click: here. So by the time YouTube removes their percentage and tax, you'll end up getting between $3 to $5 per 1000 views on a video.  But when it comes to starting a vlog, do not let money be your motivation. Be driven by something more than money- that is the passion for what you do.  
Is it possible to start vlogging with a phone?
Of course yes! If your budget is very low at the moment, then it will be unwise to invest in a professional video camera. Today we have some affordable mobile phones with some powerful cameras that you can use to film vlogs and upload to YouTube (I mean a camera that can produce a very rich, high-resolution image). Phones make vlogging very easy and super-convenient too!
With a phone, you can record your vlog from anywhere at all without having to bother your head about lighting, camera, lens, microphone etc. You can also combine raw footage from your phone and your professional camera without actually spotting the difference. 
You can buy some top quality phones with some really powerful cameras at affordable prices here.
Why is vlogging very important and popular in today's world?
There are so many different reasons why it is so. However, I'll be listing just a few here.
It creates an opportunity for money-making.
It's also a powerful branding technique.
It provides an opportunity for someone to own a platform they can use to reach the world with their message.
It appeals to us human beings. 
It creates an atmosphere for networking with people who share similar interests with us.
It's one of the most powerful ways to build a large community. 
It's the fastest way to gain validation in any specific industry.
It's of the easiest and most effective ways to generate organic traffic online.
Valuable tips to keep in mind when starting a YouTube channel
There are certain things you need to put in mind when building your YouTube channel and I'm going to list a few of them below now just to help you have a smooth career, especially as a budding vlogger.
Use flashy/ eye-catching channel art and thumbnails
In vlogging, your channel art and thumbnails are your billboards. Therefore, you must make a bold statement with them unapologetically! You don't owe anybody anything. Just sell your brand. Your thumbnail must align with your video's title. It must also stand out.
Thumbnails help viewers to decide whether to watch your video or not when they come across your content through search results as they search for related content. So, telling your viewers what your video is really about is not enough. You need to stand out from the crowd as well.
Choose the perfect channel icon
Create a powerful channel icon. This is like a logo for your YouTube presence. Ensure that it perfectly fits the brand you're trying to create and also complement your channel banner.
When creating your channel icon ensure you adhere strictly to YouTube's recommended image dimensions.  follow YouTube's recommended image dimensions to avoid stretching your image out of proportion or encountering upload failure. Also, be sure to preview your channel across multiple devices to check everything looks good before publishing.
Create playlists
Organizing related content into video playlists on your YouTube channel. This is the best way to keep your viewer on your page.
Having a playlist of your related content makes your channel appear very tidy, it also makes your videos to also auto-play themselves. This minimizes the chances of a viewer moving on to another channel.
Create a channel trailer for your channel
This is like a welcome video from you to your visitors/ viewers when they first come across your channel. With a channel trailer, you let them understand what to expect from your channel.
Make it a habit to always create great content
There's no point over-emphasizing this point as you already know- content is king here in the internet marketplace; and there's practically nothing that you can achieve without it: Great content, great results. Nobody wants to waste their value on wack content without any value to offer for their time.
Schedule your videos
One major thing you also need to learn is knowing the most appropriate time to post your videos. A major indicator to knowing the best posting hours is to find out what hours that people can be found online and also ready to watch to spare some time to watch videos.
Your channel analytics will solve this for you by showing you a specific day of the week or specific time that usually gets you high viewership or engagement- That is a major pointer to the best time that you can post your videos. You can also check people doing related stuff within your region. Turn on the notification to find out what specific times or days that they also post. You can model your publishing calendar after theirs.
Know your audience like the back of your palm
How can you create winning content for an audience that you know practically nothing about? If you must succeed here, then you must make sure you have an in-depth understanding of who your buyer persona is before you plunge in.
To understand your buyer persona, you must first satisfy questions like:
Who do I want to reach?

What do they like?

Where can I find them?
What is their age bracket?
What is their gender?
What is their employment status?
How much do they earn?
What is their academic qualification? etc
Once you answer these questions correctly, you can then use that understanding to create a video that will be tailored specifically for this selected group of people who are ready for what you've got to offer.
Try your hands on YouTube advertising
Although I don't advise anyone to start their channel on the grounds of paying for traffic (especially as a beginner). However If you're not getting the reach you desire with organic content, then you might consider spending a few bucks on an advertising campaign to increase your visibility.
There are four (4) major categories of YouTube ads are available; see them as listed below:
Skippable in-stream ads

Non-skippable in-stream ads (including bumper ads)
Video discovery ads (formerly known as in-display ads)
Non-video ads (i.e., overlays and banners)
To learn more about YouTube's ad formats and how to use them, click here.
Ask viewers to subscribe

to your channel
If you don't tell them to subscribe, they won't; and if they don't subscribe, you won't qualify for earnings which means your channel won't grow. When people subscribe to your channel and hits the notification bell icon, they get an alert whenever you upload a new video on your channel.  So, if you're thinking of boosting your organic reach, then getting new subscribers is the way to go!.
Build an Audience for your channel
If you're serious about turning your YouTube channel highly successful, then building a loyal audience to regularly watch and engage with your videos is a must. Brand equity is the currency in this industry. Therefore to sell, you must build your reputation on YouTube so your vlogs can be ranked higher and also made to appear in the recommended videos section.
Find below a few tips to help you build a loyal audience:
Be transparent with your audience and put them into consideration when creating your content. 
Create a publishing schedule for your channel and stick to it.
Publish consistently as this is one of the best ways to gain subscribers.
Collaborate with other successful YouTubers and brands.
Ensure your channel is optimized for search engines so that you can attract more views.
Build a community by engaging with your audience across other social media channels as well.
Ensure that your Engagement is always high 
Videos with high engagement rank better. Here are some things that you can do to keep your engagement rate high:
Put some effort into creating your thumbnails.
Post consistently.
Keep your videos short in the beginning.
Promote your vlogs tirelessly.
Tell your viewers to leave a comment (you can ask them a question they'd like to respond to).
Reply to comments.
Be patient, put in the work consistently and watch your channel grow.
I'm sure with the information provided thus far, you can hit the ground running. What are you still waiting for? Go and create that account now… everybody including the superstars on YouTube once started with zero subscribers.