<

>
PODCAST: Thinking of "How to Start a 6-Figure generating Podcast in Nigeria as a complete beginner? In this article, I'll be showing you exactly How to Start a 6-Figure Generating Podcast in Nigeria in 2021.
Are you among those that have been looking for an opportunity to learn how to start a 6-figure generating podcast in Nigeria? It is no longer news that you can now be able to begin effective podcasting in Nigeria that would be financially rewarding regardless of whether you're very low on budget or have a fat budget for what you intend to do. In this guide, I will show you precisely the best way to set up a highly effective podcast here in Nigeria. 
Figuring out how to set up a podcast doesn't necessarily need to be overpowering like the 'Gurus' make it. Let me show you exactly how to get that done, just watch over my shoulders.
Stop imagining, stop dreaming, now is the opportunity to start and you must take action. You don't need to procrastinate anymore! 
Do you want to get heard? Do you want to reach the world from your platform (not borrowed)? Do you want to share your opinion without restrictions?
Now, is the ideal time to launch that idea and bless the world with it. 
What is stopping you from starting your podcast now? 
I suppose you don't have the foggiest idea of how to set up a podcast the right way (this could most likely be the thing you're struggling with).
However, since I'm here, you have nothing to worry about anymore; as I'm going to show you in this article all you'll ever require to help you set up your professional 6-figure generating podcast online. 
So, let's take a deep plunge, shall we?
But before then…
1. What is a Podcast?

A Podcast is any digital audio file in episodes that can be downloaded from the internet by a user into a personal device for easy listening. This could also be arranged in series or grouped to make it easier for listeners to download. Streaming applications and Podcasting services provide a convenient and integrated way to manage a personal consumption queue across many podcast sources and playback devices.
See Top Five (5) Podcasts that you can use as case study when setting up your podcast.

This is a new podcast started by the inventor of live chat for brands -Rob LoCascio. 
Visit Podcast: https://wavve.link/overthewall
On Apple: https://podcasts.apple.com/us/podcast/over-the-wall/id1453786912

This one is hosted by Brian Solis, Salesforce's Global Innovation Evangelist and a best-selling author, WTF tackles topics around the concept of digital Darwinism. 
Visit Podcast: https://podcasts.apple.com/us/podcast/wtf-whats-the-future/id1439090955

This one is for those who find pleasure in hearing from some of the highest achievers in the entrepreneurship circles, You can take advantage of it if you're looking forward to starting and growing your business.
Visit Podcast: https://podcasts.apple.com/gb/podcast/harvard-alumni-entrepreneurs-invites/id1515576628

This one here is by Talor Zamir, a hugely successful entrepreneur who shares wellness tips to help other entrepreneurs perform at their very best. 
Visit Podcast: https://podcasts.apple.com/us/podcast/peak-performance-life-podcast/id1435037662

This one is a business interview show and not a podcast. it's a live-streamed TV show.
Visit Podcast: https://www.youtube.com/channel/UCKZDMQI0ra7-6vpN98UFP1Q
In every sense of the word, Podcast is completely different from a blog in the sense that a podcast is designed for listening whereas a blog is designed for reading.
Having said that, What exactly do you need to set up your Podcast?
Your Voice
A Winning Idea
A Recording device: Smartphone + Audacity
A USB Cord
Earpiece or Headphone
A Personal Computer (Optional)
A website (optional)
2. Brainstorm And Choose Your Preferred Topic for Your Podcast.

Now that you already have a clear understanding of what blogging is, then the next line of action that you must take is to ask yourself: 
(a). Why do I so desperately want to start a podcast? 
(b). What do I want to achieve with it? 
(c). How would that benefit me when I achieve it?
If you're just driven by the desire to hit 6-figures per week/ month (even when you know in your heart that you don't have the required knowledge to earn that amount of money) and get Millions of followers to help you become as popular as Coca-Cola, then you might have to try another hustle.
If there's a faster way to conveniently generate leads for your business, then it's podcasting! 
As a podcaster, you'll own your platform and express yourself in any way you would like to with the platform; secondly, your reputation will most likely go over the roof. 
Just like blogging, podcasting requires time, commitment and love for what you do; if you're not certain you can sustain the moment, you shouldn't start at all. Perseverance is everything in this industry.
No matter how much folks would like to twist things and make it appear like there's a better way to get stuff done, you need to understand and accept the fact that the key to building a successful career online is by choosing a topic that you are very passionate about. Something you can gladly do even when you're not being paid. 
Therefore, if you've read this article up to this point, you most likely have a very clear understanding of the topic you'll like to build your podcast on.  
Now, let's dive into the next point- your listeners.
The major problem with building a highly successful podcast is the inability to properly figure out the most suitable niche/ topic for you personally as a podcaster.
Understanding this is the key to creating a successful podcast and to do this effectively, you must align your passion with the interests of your supposed listeners.
So, how do you fix this as a newbie podcaster?
It's very simple! Before you choose a niche/ topic to build your podcast on, you must find a way to critically examine other podcasters and their work to see what they've done so far and see how you can build something similar but unique to your personality and brand.
Another thing you need to understand how rewarding a particular niche can be, take a closer look at the people producing and consuming podcasts within that particular niche. The truth is the more people you'll find in a particular niche, the more rewarding- and the truth is a niche can never be over-saturated; just add some fresh touch of creativity to it!
What must you do now?
Brainstorm and come up with at least 20-100 potential episodes on this preferred podcast niche/ topic. 
To do this, you must take your focus away from niches/ topics that are very broad because they cannot effectively reach a specific audience. 
Understand that to build a successful business, you cannot target everybody; the same applies to podcasting as well. Understand your ideal "Buyer persona" and choose a niche that is streamlined enough to make your brand/ podcast appear very unique, yet open enough to allow create 100+ episodes.
(2). Choose a Befitting Name for your Podcast

At this point, it is understandable that you now have a clear knowledge of the niche you want to build your podcast. So, what must you do at this level? 
You must name that podcast!
In naming your podcast, you must make bring clarity to the overall concept of that name; and also, be sure to make it specific and unique enough to capture the attention of your audience. So in building that winning podcast, you must consider the following:
Clarity:
Normally, it's only sensible that you cleverly structure things in a way that makes it very easy for your listeners to almost effortlessly figure out what your podcast is all about just simply by its name. So, apart from adding descriptions etc, there's more that you can do to make people understand what you're doing and how it can benefit them. Remember, you'll not always be there when they ask questions to gain more insight into what you do.
Make keyword targeting thing when constructing your title:
Remember, just like YouTube, the Apple podcast platform is also a search engine for podcasts and podcasters, if you understand this clearly, then you'll understand that it's one of the best ways that you can get your podcast recommended to the right listeners by including your target keyword in the title. 
Caution: Be careful not to overdo it. Just keep it clean and simple!
Consistency:
You must give your business a face. This is very important! The easiest way to achieve this is by creating a brand around/ out of what you do (you must make this a top priority).
Once that is done, use that brand to give a personal voice and image to your podcast. This simply means that you must brand your podcast if you want to be taken seriously.
Merge strategies:
This is another beautiful way to have a podcast that is unique to your personality. You can do this by combining the title with your name, brand, or business name. Like always, keep it very simple!
(3). Create An Artwork for Your Podcast

People identify easily with what they can see with their eyes. Therefore, when it comes to podcasting, aesthetics matters a lot! 
You must give top priority to your podcast cover art because it is the very first thing people see about your podcast before they even think of reading your description. 
If this holds true, then what must you do at this point?
It's very simple! You have to create a captivating image that easily captures your visitors'/listeners' attention. To achieve this, you must ensure your image communicates in a very concise manner the subject of your podcast and throw a little light on your personality by introducing yourself. 
This to a larger degree validates your brand and makes it easier for people to connect with you at that level. Be sure to remain consistent with that very image. This is very important!
Before you start, keep this in mind!
Find below some very key information that you'll need when creating your captivating cover art for your podcast channel: 
Make moderate use of texts. Avoid making your cover art appear too 'wordy'. Ensure that you use some simple fonts and make sure your texts are readable even at low resolutions, such as 150 x 150 pixels.

There's an industry-standard specification when it comes to creating your podcast cover art. Make it a minimum of 1400 x 1400 pixels; ensure you don't exceed the maximum specification of 3000 x 3000 pixels to cover larger screens like the iPad.

When exporting, go for 72 DPI (dots per inch) JPG or PNG format, this will ensure your file size doesn't go above 500kb size. Don't forget to also export it in the RGB colour profile.
There are two (2) major ways you can get this done.
#1. By creating the cover yourself.
To create your podcast artwork all by yourself, you can use Corel Draw, Photoshop or even a free service such as Canva. Assuming you want to use canva.com (because everyone can't be a Graphic designer) just type in "CD covers" (which are usually 1400 x 1400 pixels by default on Canva) as you browse through their several available free templates, or alternatively, you can still use the platform to create your design from scratch.

But mind you, vector-based images done with professional Graphic design software can never be compared to jobs done with Canva or other related platforms. They're usually clearer because and sharper.
#2. By hiring someone to create it for you.

To do this effectively, you might consider outsourcing your design jobs to professionals on Upwork, Fiverr, or 99designs.
Be specific with what you want and provide them with some clear details of what you're expecting. Given this, you must provide them with the details of your podcast, in addition to the specifications of your podcast image dimension. Provide them with your brand colour and the images you would love to have on the art cover.
4. Customize and Add Music to Your Podcast.

Music is one powerful ingredient (actually a must-have) that you need to integrate into your podcast if you're looking to create something highly professional. 
If possible, you should hit the studio and produce a theme song specifically for your podcast show. You can also use the same song to create a few seconds of intro with which you'll brand your podcast. With something like this, you make people easily recognize and identify with your podcast as a brand. 
WARNING: Avoid using copyrighted music. It doesn't always end well. I had a terrible experience with this. If can't afford to create a customized piece of music branded to suit your need, then you should consider royalty-free music or buy a one-time commercial license from platforms some popular platforms.
If you're familiar with some of these things, you'll understand that one of the major issues you'll encounter whether you're a Youtuber or Podcaster is finding quality background music for your work.
Find my top 7 websites to buy your licensed music background for your podcast. 

Licensing: Royalty-free
Why I specifically recommend this: Epidemic Sound is among our top favourite places to find high-quality background music for your podcast. The platform is super-easy to use. Music licensing can be quite tricky most times, but and this is where the Epidemic differentiates itself. Epidemic bundles all of the legal rights you'll ever require on a simple license that you can comfortably use across all platforms.
Pricing: Licensing starts at $0.99 and Subscriptions start at $12/per month
Licensing: Free (public domain) & Creative Commons
Why I specifically recommend this: There are a ton of free songs available in their massive audio library. Their search functionality offers you the leverage to sort by genre, instrument, duration, attribution, and even mood. 
To access YouTube Audio Library, go through your YouTube account, then hit Creator Studio > Create > Audio Library.
Price range: Public domain & Creative Commons
Licensing: Royalty-Free
Why I specifically recommend this: You'll find this on Envato Market all you need is just to hit the link and search for the genre of music that you want. Envato Market houses more than 3 million digital products created by a global community of contributors. There are more than half a million tracks from pop to heavy metal to music kits and sound effects made solely for creators to express the creative part of them. 
Price range: Tracks starting at $1
Licensing: Royalty-free
Why I specifically recommend this: Amazon Music has more than 56 thousand free tunes and soundtracks that you can easily integrate into your podcast. 
Price range: Free or premium tracks start at $0.99
WARNING: You may use the Services only for your personal, non-commercial purposes". 
Licensing: Creative Commons
Why I specifically recommend this: If your target is to get something clean and classy, then SoundCloud is a perfect place for you. Another important thing here is that most of the music on SoundCloud is licensed under Creative Commons, this simply means that you are free to use their tracks as long as you follow the specified guidelines established by the artist. 
Price range: Free
Licensing: Royalty-free
Why I specifically recommend this: This is like a warehouse to hundreds of amazing tracks created and uploaded by artist Benjamin Tissot whose work has been featured all over the web in several projects ranging from animations, corporate videos, and commercials to short films and documentaries. 
Price range: Free (with attribution) or 1-year unlimited downloads for $129
Licensing: Creative Commons
Why I specifically recommend this:  Even though this happens to be one of the more pricey options out there in terms of background music services, however, their website is top of the class.
WARNING: If you're using it for personal use only on YouTube, you'll be able to access nearly all of their tracks for free. 
Price range: Free (personal use) or $0.99 and up (business use)
(5). Secure Your Recording Equipment

At this moment, it's expected that you should at least have a personal computer already have a computer; and in the absence of that, you'll be required to 2-3 more things that will be very instrumental to your success as a budding podcaster. 
A microphone

Audio editing software

Other (optional) recording types of equipment.
Microphone
Think 'professional' and see issues from a business angle. To create a highly valuable podcast, you need the right types of equipment to help you achieve just that. 
Your audio quality is everything when it comes to podcasting. No matter how cheap a microphone is, it's still better than using your built-in computer microphone; and not just that, it will still deliver more quality production than your computer in-built mic. 
Types of Microphones
USB Mics: 
These are usually plug-and-play microphones and are normally cheaper and easier to use; however, they're less customizable than XLRs.  
XLR Mics: 
If you have a great budget and looking for something that will always deliver quality, then XLR mics are the option for you. Nevertheless, you'll be needing an extra cable and audio interface to make this work. Another thing you need to also know is that they're quite expensive and also higher in quality than USB microphones.
WARNING: If you're looking at something that has more balance, then the combination of an XLR mic + audio interface might just be the miracle that you need (but this will require some level of skill). You can go to Jumia and type in the keyword "Microphones" to see from their list of available mics.
Go for a microphone that gives you the option of both USB and XLR, like 
or any other type of mic that you're comfortable with. 
Audio Recording-Editing Software
Audacity This is my recommendation. It's a very powerful audio recording/editing software and it's beginner-friendly too.
The software works on Windows, Mac, and Linux computers; and it can record, playback, edit, and export your audio into a variety of different audio formats (MP3, WAV, FLAC, etc). 
The most interesting is that Audacity is open-source and free.
Other (Optional) Recording Equipment
A pop filter
This is a noise protection screen that helps to reduce or totally eliminate hissing noises and popping noises. It comes with most of the professional mics. However, you can purchase it separately if your mic didn't come with it.
A pair of headphones
This will protect your microphone from picking up ambient sounds and also pick sounds from your computer speakers and also help you hear yourself as you speak, so you can adjust effect all necessary adjustments as you speak.
Interview Software
If you intend to talk from far away (eg: people living far away from you, living in a different state, different country or even a different continent, then you might consider spending a little cash on interview software, like:
Squadcast

:

Used majorly for videoconferencing and records on separate tracks for each speaker.

Zoom

:

An easy-to-use tool for remote interviews with impressive audio quality. Major pitfall: Cannot save the audio to separate tracks.

Callnote

:

A powerful software that records GotoMeeting, WebEx, Facetime, Skype, Google Hangouts, and many more.
(6). Pick Your Preferred Podcast Hosting Platform 

It is true that you can listen to your podcast through giants Apple Podcasts, Spotify, Google Podcasts, etc., but then you don't actually upload your episodes directly to those platforms. 
Do you intend to share your podcast with the world? Then, you'll need a podcast host just like subscribing to the services of a web host. So, you'll need a place to store and distribute your podcast's audio recordings.
Like hosting a website, these 'Podcast Hosts' will charge you a monthly service fee to host your audio files and generate the RSS feed that you're required to have before you can submit your podcast to popular podcasting directories (to make it very easy for listeners to find you).
Picking your Podcast Host
When it comes to Podcast hosts, there are several options that you can choose from and there are certain factors you need to put into consideration to enable you to do that effectively. And some of those factors are: 
How durable is your host?

What is your host's storage capability?

Does your host offer website integrations?

How thorough is your host's analytics?

Does your host help your monetization efforts?
So, let's move over to the free hosting platforms
Free hosting
The underlisted platforms offer free podcasting plans, but you must never forget that these plans come with limits:
I'm focusing on free hosting platforms now because I want you to learn first and find your way around some of the listed platforms; then you can analyze things all by yourself and make a decision on the premium platform to use. So, free platforms are not actually bad but just bear in mind that they're limits and if you're looking at growth, then free platforms might not really be ideal for you.  
(7). Record Your Very First Podcast Episode

By now, there's no arguing the fact that you must have made your decision on the niche to build your podcast on, the particular topic to record and publish as well as made ready all necessary equipment for the production of your podcast. 
So let's look at the steps you need to take to have your podcast up and running.
Step 1- Pen down Your Script
Before we move into this proper, I'd love to remind you again of what podcasting is.
What is Podcasting? It's the practice of using the internet to make digital recordings of broadcasts available for downloading to a computer or mobile device, and a lot of folks see it as a logical next step from blogging.
If this above is the true reflection of things, then it's necessary that you view podcasting as speech delivery (as if you're addressing a live audience). In view of this, I think it wise that you don't only plan what you intend to say; rather you need to also pen it down. 
However, don't need to write it down so you can read it word for word like a newscaster… No!, speak from what you've written down on the paper like you're having a chat with a dear friend. Just add some creativity to it and make it fun. 
Ensure your recording environment is serene and orderly
Before you hit the microphone for your recording, ensure you've set up your recording environment first; and after that, test your sound and output to be sure what you have is good enough. 
Put off your TV, Radio, Mute your mobile phones and keep kids and pets away till you're done. Make you shut the door properly and maintain a drop-dead silence in the room. 
Have Your Intro and Outro Ready
For the sake of branding, ensure that you remain consistent with your intro and outro. How people enter your podcast and how you leave pulls emotional strings in the heart of your listeners. The major purpose of your intro and outro is basically to brand yourself, make your podcast memorable and easily identifiable, add a call-to-action; as well as sell yourself.
Ensure also that you mention your podcast name, topic, and hostname (your name). 
Record Your Episode
Now, that you've penned down your content and prepared your recording environment set up, the next thing you need to do is to start recording!
Steps:
(a). Plug in your recording equipment 
You need to connect your mic, headphones and other recording equipment. Open your recording software and ensure your computer recognizes your mic as the source of audio input, then hit record. Feel free to re-record if you make mistakes… it's okay.
(b). Edit Your Audio (Post-Production)
This simply means manipulating your audio to alter the length, speed, and volume or to create additional versions such as loops. So, in editing your audio, you're required to cut out errors, reduce background noise to a very minimal level, balance sound levels, and add your intro and outro. In the end, these actions will make your audio pleasant to the ears of your listeners.
I will recommend Audacity software to you as a beginner. You canto record your audio with it and also edit your audio file in the software directly. (To learn how to use the software, click here-> Audacity's tutorials).
You can also outsource this part of the job to a professional to save yourself some time. 
(c). Save Your Recording And Export
Once you're done with recording your audio, save it in MP3 format by simply clicking on "File" → "Export" → "Export as MP3":
Then proceed with naming your audio file using this arrangement: "Podcast Name- Episode Number- Episode Name- Date."
"TheOnlineMillionaire Wealth Series- #36- Building Your 6 Figure Blog- 03/9/2021".
Audacity has a default standard quality which is MP3 and usually very okay. 
(8). Upload Your First Podcast Episode.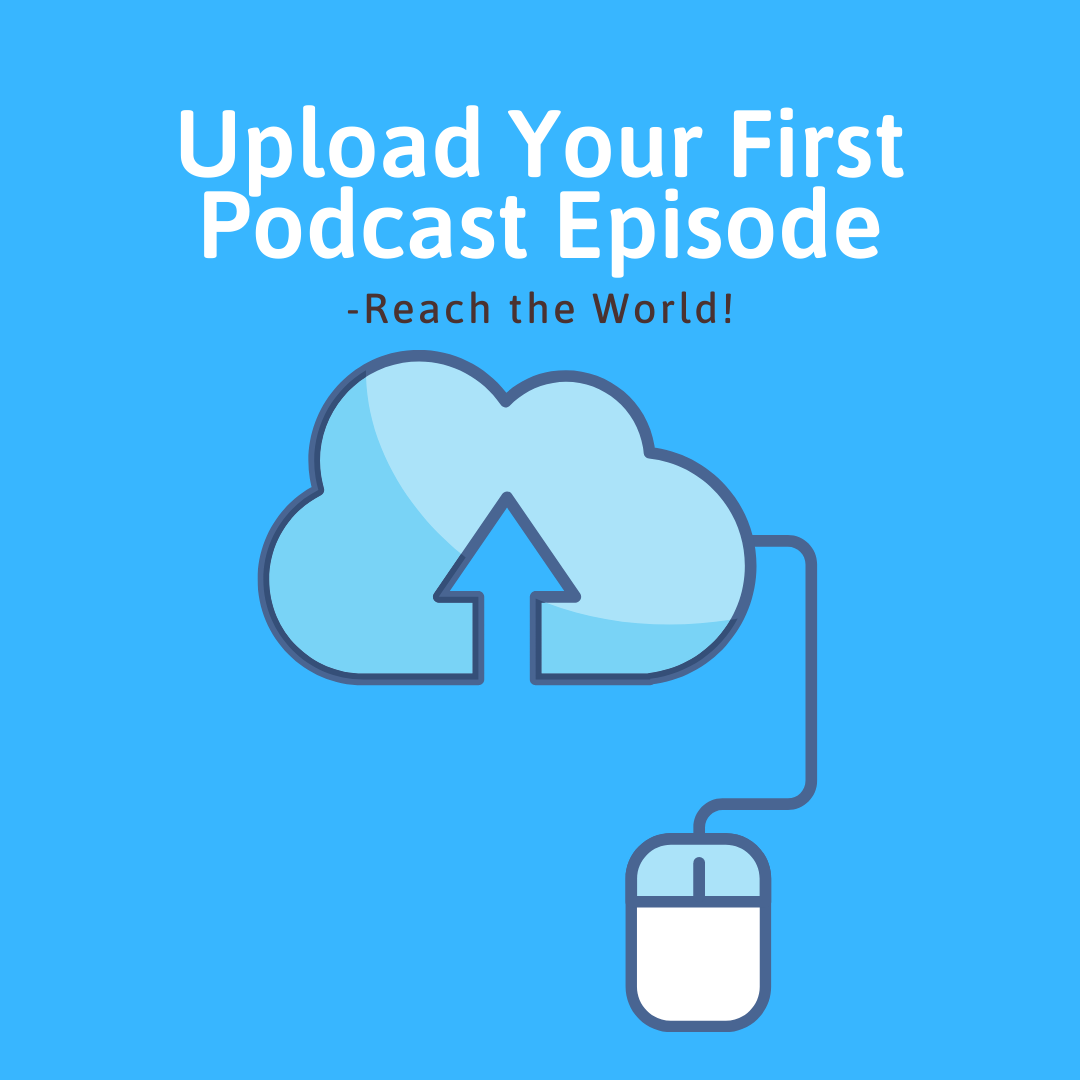 Once you've finished exporting your episode as an MP3 file, it's time to upload your file to your host. Each host has their own way of doing things, so follow their instructions:
When you do, you'll be prompted to include ID3 metadata that stores information related to an MP3 file.
You can also include this information when exporting your file from Audacity:
Audacity includes a space for you to add the artist name (in your case, podcast hostname), track title (episode title), album title (podcast name), track number (episode number), year, genre, and other comments.
For each podcast episode, you'll want to prepare an episode title so listeners know what your episode is about. You also want to include show notes, which can include a description of the content (including relevant keywords to make your episode easier to find), timestamps, links to your site, etc.
If this is your first time uploading to your host, you will be asked to include your podcast title, artwork, and description.
Then, once you've filled out all the necessary information, your host will pass it on to your podcast directories so that your podcast can be found by future fans.
And speaking of those directories…
(9). Submit Your Feed to Popular Platforms- Google, Apple & Spotify.

Immediately you're done creating and hosting your podcast, your next line of action should be to submit it to a podcast directory, and that's a very easy thing to do.
There are some podcast hosts that have an easy one-click-upload button; for such ones, just click on the button to upload; but for every other host, follow the process below to submit your podcast feed. 
But we'll be focusing just on the three (3) global giants:
(a). Apple Podcast
(b). Spotify
(c). Googleplay
Upload Your Podcast to Apple Podcasts
Step 1. Sign in to iTunes Connect using your Apple ID 
Step 2. Hit the "Podcasts Connect" button.
Step 3. Enter your podcast RSS feed URL (picked from your podcast host) and click "validate." Click Submit to continue.
Step 4. Allow some time to pass so that Apple can review your podcast and get you notified via email once approved.
Upload Your Podcast to Spotify
Step 1. Go to Spotify for Podcasters and log in to your account.
Step 2. Once you are logged in, go to the "Add your podcast" page and click "Get started".
Step 3. Enter your RSS feed and click Next.
Step 4. Add relevant info to the "Add podcast info" page, review, and submit.
Upload Your Podcast to Google play
Step 1. Go to the Google Play Music website and click Publish.
Step 2. Sign in using your email, and submit your podcast URL.
Step 3. Once you are approved, your podcast will be listed on Google Podcasts.
Other Podcast Directories
Apart from Apple, Google, and Spotify, there are other popular podcasting directories, you can also upload your podcast to such as TuneIn, Stitcher, Overcast, etc. Leverage the opportunity that these platforms provide to make your podcast visible.
(10). Promote Your Podcast Across the Internet.

Podcasts are growing in numbers on the internet. To get seen, you have to do more than just sign up on hosting platforms and submitting your feed to directories. However, there's really nothing to be afraid of.
Promoting your podcast is quite super-easy. Here are tips to help you achieve that.
Launch your podcast in a grand style!
Raise clouds of dust about it, get the word out, get everyone involved;
your family, friends, followers, folks on your mailing list etc. 
If you can, organize a team to help you with launching. Create several episodes and keep them ready before the launching day.
What you tell people is what they'll believe about you, what you tell them to do is what they'll do. So, you must tell them to subscribe and send in their reviews to your podcast and they will.
Create audiograms for each episode
This is a snippet of your podcast episode which you can share on social media to catch the interest of potential listeners.
You can use any of these two platforms
(a). Wavve 
(b). Headliner 
to easily create a visually appealing audiogram to share on your Facebook, Twitter LinkedIn, and other social media channels. 
Utilize your website
By all means, try to get yourself a self-hosted website, create it and leverage the power of that website that you created by sharing your podcast, blog content, creating and selling products and courses via the same website.
If you have a website, ensure sure you promote your podcast on that website. Be sure to figure out a way to transcribe your podcast episodes into blog posts by transcribing and editing your audio.
Feature your podcast on your Home page and About page, link relevant blog post to relevant to podcast episodes and make sure you have a podcast player embed on your website for your visitors.
Be humble, make it a two-way thing! a guest (and invite guests onto your show)
Don't feel too big when people approach to contribute to their platform and also find a way to invite other people to your podcast show.
This is one sure way for free traffic; and if growth is very important to you, then you must take this seriously. This doesn't mean you should accept every Tom, Dck and Harry that approaches you to be a guest on their show. No! I won't even recommend that to my enemy.
What I'm simply trying to say is this: Be open to invitations and meaning collaborations from your fellow industry players (especially those operating within your niche; and most likely have a more established podcast). 

These are the kind of people you should invite and respond to their invitations. Avoid people who are not doing anything meaningful and probably have nothing going for them. So, if you have access to some influencers and celebs, it's time to send them an invitation and see how you can use their platform as a springboard for rapid growth. 
So, you must invest more into networking so you can be seen; and as a result, enjoy better recommendations.
Never any available opportunity to promote!
Word of mouth is one of your best strategies here. So, don't neglect it, don't give a thought to what people would say or how they feel about you and what you do. Just push!
Brainstorm some hot topics, talk about it with your friends, share it on social media, and write about it, just share that message to the world.
Ensure that whatever you're putting out is top-notch and so valuable that people would willingly share it on their platforms with their friends and followers.