Getting Started with CPA Marketing for Beginners- [The Most Detailed A-Z Guide]
I'm quite very certain that there are chances you're hearing about CPA marketing for the very first time. However, if you're currently living in Nigeria and looking for an avenue to beat the current hardship and escape the effects of the consistent economic decline in the country, then you must focus your attention on CPA and Affiliate marketing. One of the ways to get started is by taking very seriously everything you're going to learn from the article: CPA Marketing for Beginners [The Most Detailed A-Z Guide].



CPA & Affiliate Marketing: These are two channels that don't necessarily require you to create any product or service; matter of fact, you profit from other people's hard work and get paid some impressive commission (depending on the company and the particular offer).
 So again, do you live in Nigeria? If the answer to that question is "Yes', then I would like to help you by giving you top information that is more valuable than any amount of money that I can give to you right now.
 Now listen! One of the smartest and best ways to earn a decent but consistent income online easily is CPA marketing. It is specifically a new and unique type of Affiliate marketing that helps people to make money even when they don't directly sell a product/ service or even strike a deal. 
In CPA marketing, you can make money without selling a product/ or service (provided you learn how it works first and also follow the provided guidelines). If you're among those that have lost some large sum of money trying to make money online or simply build a business online; maybe you've even tried your hands on Affiliate marketing but in the end, couldn't get the requisite traffic necessary to make money online using Affiliate marketing as a model, then never you worry, I've got you covered!
In the next few minutes, I'm going to expose you to the major tool that a lot of successful marketers are currently using to milk the industry which as I earlier told you is called CPA Marketing.
So, if you've got content and traffic; and now thinking of the best best way to monetize them, then CPA marketing is the best way to go about that. This business model has helped a lot of people and website owners to go from 0 (Zero) to earning millions of Naira per month (if you're in Nigeria) or a couple of Thousands of Dollars (if you're outside the shores of Nigeria).  
Now, I'm going to show you in this article everything you need to know about CPA Marketing and how you can use it to rewrite your financial history.
 It is no longer secret, almost every marketer who owns a website know too well that one of the most rewarding ways to monetize a niche website/ blog is CPA marketing. Therefore, in this CPA Marketing for Beginners guide that is specifically crafted for absolute newbies, I'm going to show you exactly: 
> What CPA marketing is.
> How it works. 
> How to apply and get accepted.
> How to promote an offer and make money doing that.
> The difference between CPA marketing and Affiliate marketing. 
> How to identify the top, reliable CPA networks
I know that a lot of people have written on this subject matter, if you run a search on it at the time of publishing this guide, you'll discover that there are over 47,000,000 articles on this subject already.
Some persons will easily package the information contained in this guide and sell it to you as a mini-ebook on CPA Marketing for Beginners but here, I'm giving you all of this information completely for free, and I am certain you're going to get great value from it (as you'll find it richer than some of the CPA courses that you've previously paid for). 
Note: This is not a GRQS (Get Rich Quick Scheme). However, there's no way in the world that you'll be making $10,000 from it in the first month as an absolute beginner. First of all, you must have to read the information contained herein carefully, practicalize and apply it to your business. That way, you're good to go.
Remember, Patience, diligence and consistency are required for growth/ success here. So, learn, follow and apply the principles that I'm going to show you. That's all!
It's not as if you cannot make up to $10,000 and above per month through CPA Marketing but the thing is: CPA Marketing has a steep learning curve; and because of that, for you to start making money using this as a business model, you need to calm down and learn first. Then after that, if you want to scale up your earnings per month, you need to acquire some experience.
You see, time is a major factor here; so, you must be patient. But 5-6 figures in earnings per month from CPA networks (in Dollars) is guaranteed once you know exactly what to do and are also willing to put in the required work. Knowing what to do alone is not enough doing the work itself is very important.
 Now, let's get into it! 
1. What Exactly is CPA Marketing?

­­­­­­­What is CPA Marketing? CPA marketing, also known as Cost Per Action Marketing, is a style of the affiliate marketing model that offers a commission to the affiliate when a specific action is completed. The lead action can be anything from:
#1. Making a purchase 
#2. Getting a quote
#3. Watching a video
#4. Filling out a form
#5. Submitting emails
#6. Participating in a survey
#7. Doing a review
Etc.
The term CPA stands for Cost Per Action as I earlier mentioned. People also sometimes refer to it as Pay Per Lead, abbreviated as PPL. A lot of folks tend to tilt towards CPA marketing because it's relatively easier than selling products (physical or digital).
One of the smartest and best ways to earn a decent but consistent income online easily is CPA marketing
The foundational concept behind CPA affiliate marketing is simply built around getting a particular action from your traffic (which simply means- selling your traffic for a specific action which could be any of those that I listed above earlier). 
In case you've forgotten, let me quickly remind you for the second time. These specified actions could be: email submission, filling of a form, File download, pin code submission, mobile number submission, carrying out a review, taking part in a survey, or even getting a sale.
If you understand that people value the word "FREE" more than anything else on earth, then you'll understand also the power that compels people to always opt for free products than spend their hard-earned money on premium stuff…everybody loves 'FREE', and it's the science behind CPA marketing. 
I'm sure by now you get the point? It's super simple! To make money with CPA, simply drive your traffic to a specific task (with a reward attached to it); and once an action is taken, then you qualify for a reward which translates to some good money from $0.50-$20 or even more per CPA offer.
But then, some high-end CPA offers pay $750 or even more for a particular action by your traffic; however, the truth is that getting accepted into some of those is very difficult but there's a way to beat it and get your share of the cake.
By now, you must be wondering and asking yourself: "Is this real?" Yes, it is; and a lot of people are using this business model to turn their life around by rewriting their financial history with the opportunities that CPA Marketing brings.
Honestly, that's the very reason why I crafted this CPA Marketing for Beginners guide- Just to let you know that it works and also to show you how to go about it. I'm just here to help you.
2. How Does CPA Marketing Work?

Some renowned CPA networks typically control the entire process, and this is exactly how it works. There are three major players here. 
 (a). The Vendors/ or CPA Offer Creators: These people are responsible for creating and submitting their (specific) job/s or product/s to CPA Networks.
(b). The CPA Networks stands as a middle-men to both the CPA Vendors/ Offer Creators and us, the Marketers.
(c). We, the Marketers sell our traffic to the CPA Networks for money and the CPA Networks. promote those offers via CPA marketers like us leveraging our traffic.
So, the thing is this: They apportion a fixed sum of money for every specific offer depending on how much the vendor or CPA offer creator has invested.
 If this is the case, so what then is your work as a marketer/ promoter? It's pretty simple!
First of all…  
(a). You need to apply to a CPA network.
(b). You need to get approved. 
(c). You must carefully go through the existing offers and select the offer that suits your interest. (d). You must promote the offer through all means/ and with all resources available to you. 
But I must have you know that it's not every niche out there in CPA that is a good one or even highly rewarding. Therefore, you must carefully search out not just a profitable niche but one you can succeed in.
Find below a list of top CPA Niches:
Weight Loss

Dating

insurance 

Finance

Mobile Apps

Software

Jobs

Housing

Gambling

Gaming

Business Opportunity
3 Terminologies of CPA Network that You Must Know

Learning CPA network terminologies isn't rocket science, but you should make yourself conversant with a few key terms before launching deep into the ocean of CPA. 
(a). Affiliate Manager: This is someone who manages an Affiliate Program for a merchant. Affiliate Managers are solely responsible for recruiting, engaging with affiliates, and generating revenue for the merchant.
(b). Category: This simply refers to the niche for which a specific CPA offer applies (it could be Health/ Wellness, Entertainment, Sports, Fashion, Beauty, etc.).
(c). Chargeback: This happens when a sale "falls through" for an action which an affiliate has already paid for. It's usually so because the sale was never finalized/ nor the item returned; hence whatever previously given commission is automatically deducted back into the advertiser's account.
(d). Commission: The payment an affiliate receives—either a flat rate or percentage—once a successful conversion is tracked.
(e). Contextual Link: This is a text link that is usually placed within an affiliate website links to the advertiser's website.
(f). Conversion Rate: This simply refers to the percentage rate at which a specific action is performed. Alternatively, the number of successful conversions divided by the total traffic equals the Conversion rate.
(g). Cookies: This is majorly used to assign a unique identification to a user who has clicked the link to an advertiser's website for a given period. When this happens, the affiliate receives credit for the conversion in the predefined window which is typically around 30-90 days. Cookies are indispensable when it comes to affiliate marketing because they're majorly used in tracking sales.
(h). Cost Per Action (CPA): This is a simple, fool-proof online advertising strategy that allows an advertiser to pay for a target customer's specified action.
(i). Earnings Per Click (EPC): This is the average amount an affiliate earns every time a user clicks on their affiliate link.
(j). Offer Page: This is the specific webpage where the conversion occurs after a visitor takes the necessary action.
(k). Return on Investment (ROI): This is simply the amount of money made with a campaign. Simply put, it's the revenue divided by the ad spend and multiplied by 100.
(l). Advertiser and Publisher: These are the people who pay CPA networks to get conversion of their offers. On the other hand, Publishers are folks who are in the business of promoting the CPA networks' offers to make money for themselves.
(m). EPC (Earning Per Click): This simply implies that on average, publishers earned the given EPC rate from every click. Let's take for instance: If a CPA offer of $3.50 got 1000 clicks from 40 different publishers, and 200 clicks converted into leads; then it simply means that its EPC will be ($3.50 X 40)/ 1000 and that will give you $0.14. It doesn't necessarily mean that you will get money to bring only clicks to your offers. 
(n). Payout/ CPA rate: This is the equivalent money rate that the website will pay you to get every single lead/ action for a given CPA offer. Therefore, it's very important that you first look at the Payout/ CPA rate before selecting your offer. Don't forget this!
(o). Conversion (in %): This particular term is used to express an important indication about which offer you should choose before you start your promotional activities. Normally, CPA offers with a high conversion rate are always preferable when it comes to choosing terms of offers. 
For instance: If you have an offer and the offer got 1,000 clicks and 200 leads/ actions, the conversion here should simply be: (200/1,000)*100% = 20%.
(p). Country code: You must understand that almost 95% of CPA offers are targeted by country. In light of this fact, you must be careful when choosing your offer. For instance, if you promote an offer made for the US to Canadians, you will not get a dime! Most CPA networks would usually categorize their recommendations based on country (country-specific), and oftentimes, you'll see it boldly written in the details of the offer (specifying exactly where you must promote them) like this: (CA, US, UK, AU, BR,) etc. 
(q). Incentive and non-Incentive: This is one of the most important but less talked about terms in the CPA marketing circles. 
Going by the meaning of the word, "incentive" refers to a digital bribe often referred to as (ethical bribe) to get artificial actions/ leads from people. So, when it comes to incentive offers, you can lure people in by giving them extra gifts, coupons, money, etc., to have them perform a specific action for you. However, in non-incentive offers, these digital/ ethical bribes are strictly prohibited. Keep this in mind!
(r). Offer type: On every CPA network, you'll find included different types of offers such as Pin submit, Email submit, Downloads, Survey, Installs, Mobile, Purchase, etc.
Note: If you want to stay updated with the CPA world's latest CPA events/ developments and increase your skill in the industry, then you might consider joining some of these trending communities of CPA marketers; these communities can help you to stay updated. 
CPA Forums You Should Join for Consistent Growth
·      Top Gold Forum- https://topgoldforum.com/
·      Warrior Forum- https://www.warriorforum.com
·      CPA Hero- http://topnetworks.com/
·      CPA Elites- https://www.cpaelites.com
Now, these are just a few of the major CPA marketing terminologies that I think you should know. Having said that, let's proceed with something more serious; so we can understand properly the differences between CPA Marketing and Affiliate marketing.
4. Drawing comparisons: CPA Marketing Vs. Affiliate Marketing

One of the things that make CPA stand out from normal Affiliate marketing is the fact that CPA marketing is much easier to do than affiliate marketing, and you necessarily don't need to sell anything before you can make money with CPA. Whereas in affiliate marketing, you must make sales for you to earn a commission.
In CPA, you can give out free offers, trial products, app downloads, free ebooks, free Training videos etc. to entice people to jump into your CPA offer by simply perceiving that they're getting stuff from you for free. When you do all of the above for free, you can benefit from their specific action.
Therefore, when you draw comparisons between CPA and Affiliate marketing, you'll come down to one logical conclusion which is the fact that making money with CPA is very easy compared to regular Affiliate marketing. 
If you're seriously considering getting into CPA, there are a lot of CPA-driven sites on the internet which you can use for that purpose. You can also follow theonlinemillionaire.com.ng to help stay updated on how to make money with CPA and also learn of several other ways to make money online.
5. CPA Marketing PROs & CONs for Newbies

In any industry where you find yourself, it is very important that you, first of all, learn the Pros and Cons of that industry before you consider taking a deep plunge. So, now find below some of the CPA marketing PROs and CONs for publishers as listed below:
CPA Marketing PROs
Unlike Affiliate marketing, you can get paid without generating sales.

You can also get high payments like $100 for a casino lead or a BTC exchange.

There are CPA offers in almost any niche you can think of.

You can start with a little to zero investment upfront.
CPA Marketing CONs
As a beginner, you'll find it quite very difficult to get accepted into top CPA networks.

Many of the best CPA offers are available only to 1st world countries like the US.

It's a highly competitive industry, so you have to be creative to make good money.
I'm sure you can now confidently say that you have a deep understanding of the Pros and Cons of CPA marketing for a publisher? So, if that be the case, let's then dive a little bit into the top CPA networks.
6. Top 15 Best CPA Networks of the Year 2021

Find below some of the best CPA networks to start your CPA marketing journey and earn an impressive amount of money daily doing just that.
Note: Ensure that you read all information carefully before you ever think of creating your account, applying for approval, or promoting an offer. So, pay attention to the information about each CPA affiliate network to get an in-depth understanding of the subject matter; that will enable you to maximize the opportunities they present. So, I'll be listing out some of the top global CPA websites that you can apply to and start making legit money fast. I also show you the payment methods that work; as well as show you the payment threshold for each of them and their offer types. 
CPA Marketing Network #1. AdWorkMedia

Network Details:
Minimum payment threshold: $35
Payment frequency: Weekly, Bi-weekly, Monthly
Available payment methods: Cheque, ACH Direct Deposit, Wire Transfer, PayPal, Payoneer, Payza, or Western Union.

This is one of the most beginner-friendly CPA networks; and by far, one of the best CPA that I have personally worked with due to their excellent user experience. You'll always find a lot of various offers on AdWorkMedia, hence you'll never run out of options for your desired type of offers. 
Apart from that, the dashboard is real-time and equipped with the necessary information that helps you to keep track of everything very quickly.
One of the most exciting things about the AdWorkMedia network is its tracker through which you can know about the browser, device, location, etc., of your converted traffic. nevertheless, this particular in-built tracker is not as powerful as the premium trackers but still, having a free link tracker, means a whole lot to most CPA marketers. 
If you're from Nigeria or even West Africa and considering getting into CPA, then I'll advise you to start with AdWorkMedia. I've made some good money from this very platform. 
CPA Marketing Network #2. MaxBounty

Network Details:
Minimum payment threshold: $50
Payment frequency: Weekly, NET-15
Available payment methods: Check, PayPal, Wire, Payoneer, ACH (Direct Deposit)
MaxBounty is very difficult to secure approval from especially for newbie marketers, but an all-time favourite for seasoned marketers. It's particularly not supportive to people living in Nigeria. You might want to check their list of supported countries before you apply. If you're from a tier 1 or tier 2 country with a fair level of experience in CPA marketing, then this might be another powerful option for you. It has an amazing dashboard, highly converting offers with amazing landing pages.
They also have an excellent support system. Their affiliate managers are very professional to the core and very helpful too. The only negative part of MaxBounty is that they're not supportive of newbies and Africans.
CPA Marketing Network #3. PerformCB

Network Details:
Minimum payment threshold: $50
Payment Frequency: Net-15, Weekly
Available payment methods: Check, PayPal, Wire, ACH (Direct Deposit)
This is one of the oldest players in CPA marketing; not just that, they're also one of the most recognized and reputed networks where you can find almost all types of CPA offers in the market. PerformCB pays out around 100M every year to its affiliates.
CPA Marketing Network #4. PeerFly (CLOSED)

Network Details:
Minimum payment threshold: $50
Payment Frequency: Net-30, Net-15, Net-7, Bi-weekly, Weekly, Daily
Available payment methods: Check, PayPal, Wire, Payoneer, ACH (Direct Deposit).
This is one of the top players in the CPA marketing sphere. Like PerformCB, it also comes with a great dashboard, plenty of offers, and a very good support system. People loved this particular network but I don't know exactly what happened or why they shut down their operations and left. You can also find suggestions for almost every niche on the network.
CPA Marketing Network #5. CPALead

Network Details:
Minimum payment threshold: $50
Payment Frequency: Net-30, Net-15, Weekly, Early Payment (upon request)
Available payment methods: Check, PayPal, Wire, Payoneer, ACH (Direct Deposit).
I would personally say that this is a very small network but will completely blow you away. Indeed, it's not as big as the other previously mentioned network but it sure will hold its own among other platforms. CPALead is one of the most flexible and fastest networks to work with. I usually start my students in their CPA marketing journey with CPALead, because it pays every week with various payment methods, it's super-easy to understand and use, you can also monetize mobile apps via this network.
It's simply a very powerful CPA network with high-end monitoring and tracking tool for maximum output. One striking thing about the flexibility of this network is that they change their various policies from time to time based on their publishers' opinions. So, they listen to their publishers.
CPA Marketing Network #6. ClickDealer

Network Details:
Minimum payment threshold: $500
Payment frequency: Weekly, Bi-weekly, Monthly
Available payment methods: Wire, Payoneer, PayPal, Paxum, Check, WebMoney
This is another good but new network. I sincerely think that it deserves its place in the list of the world's top CPA affiliate networks. It's a Netherlands-based CPA network and currently spreading globally like wildfire by setting up physical offices. This simply shows that they are not here to play.
CPA Marketing Network #7. Mobidea

Network Details:
Minimum payment threshold: €100 (Euro)
Payment frequency: Daily
Available payment methods: Wire Transfer, ePayments, Payoneer, Payza, Paxum
If I have a darling among the affiliate networks, then that must be Mobidea. It is the king of mobile CPA offers. Mobidea is a network full of high-end mobile-based offers, and amazingly, most of its CPA offers start from $30 upwards. So. if your major source of traffic is mobile, then you're welcome to the party baby! This is a very powerful mobile CPA marketing network for highly converting offers.
CPA Marketing Network #8. CPATrend

Network Details:
Minimum payment threshold: $50
Payment Frequency: Net-15, Bi-weekly, Weekly
Available payment methods: Check, PayPal, Bank Wire, Payoneer, ACH
This is another beginner-friendly CPA network to start your journey in CPA marketing. The interphase is super-easy to understand and straightforward to use interface. Its awesome flexibility will also help you to run offers seamlessly.
CPA Marketing Nework #9. AdGateMedia

Network Details:
Minimum payment threshold: $25
Payment Frequency: Net-30, Net-15, Net-7
Available payment methods: Check, PayPal, Wire, ACH, Payoneer
This is particular CPA network is strictly focused on mobile traffic hence comes with a lot of mobile-based CPA offers. Apart from CPA marketers, app developers can also use this network to monetize their apps.

Network Details:
Minimum payment threshold: $50
Payment Frequency: Net-30, Net-15, Net-7, Bi-weekly
Available payment methods: Check, Wire, ACH, PayPal
This is another excellent CPA affiliate network, and as well comes with a good number of offers. The main positive side of this network is that it is frequently updated with new offers. If you find yourself working in the mobile app niche or mobile game niche, I think AdscendMedia will be quite helpful and it also has plenty of mobile-based offers.
CPA Marketing Network #11. AdCombo

Network Details:
Minimum payment threshold: $50
Payment frequency: Weekly
Available payment methods: Paypal, Payoneer, WebMoney, Wire.
If you're thinking of having just one network that offers you just about everything you need so that you can focus only on promoting your offers, then AdCombo is the network for you. Its user interphase is so simplified that even a newbie can jump right in and start using it without any issues. Another major attraction is its user-friendly affiliate dashboard, friendly affiliate managers, learning materials, lead tracking system, and so on; this network is just the bomb!
CPA Marketing #12. CPAGrip (Join for Free)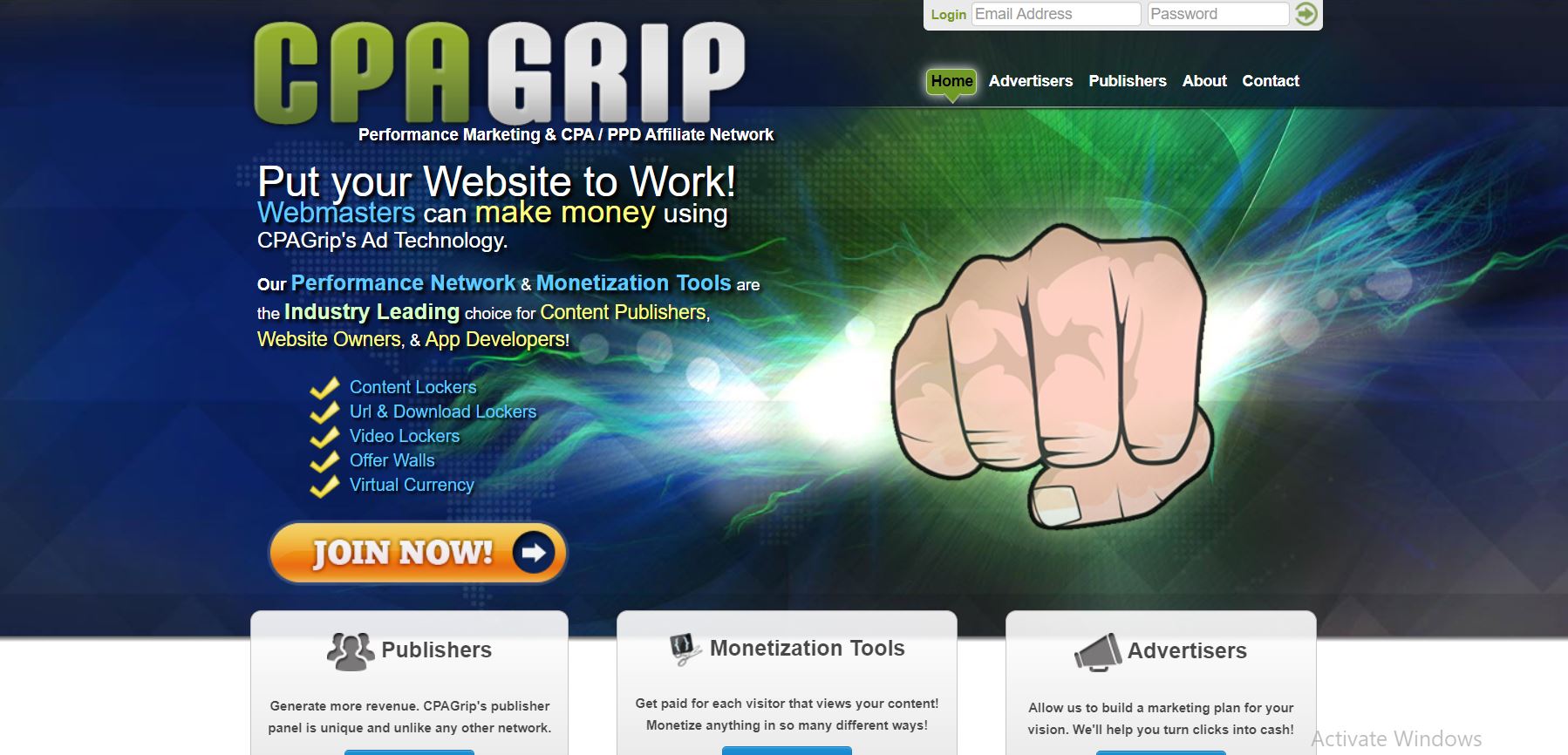 Network Details:
Minimum payment threshold: $50
Payment Frequency: Net-30, Net-15, Net-7, Bi-weekly, Weekly
Available payment methods: Check, PayPal, Wire, ACH (Direct Deposit)
This one to me is personally my #1 beginner-friendly network and a very easy process to access their huge collection of offers. Additionally, you can promote the offers here in various ways, such as content locking, URL locking, virtual currency, and so much more.
CPA Marketing Network #13. Admitad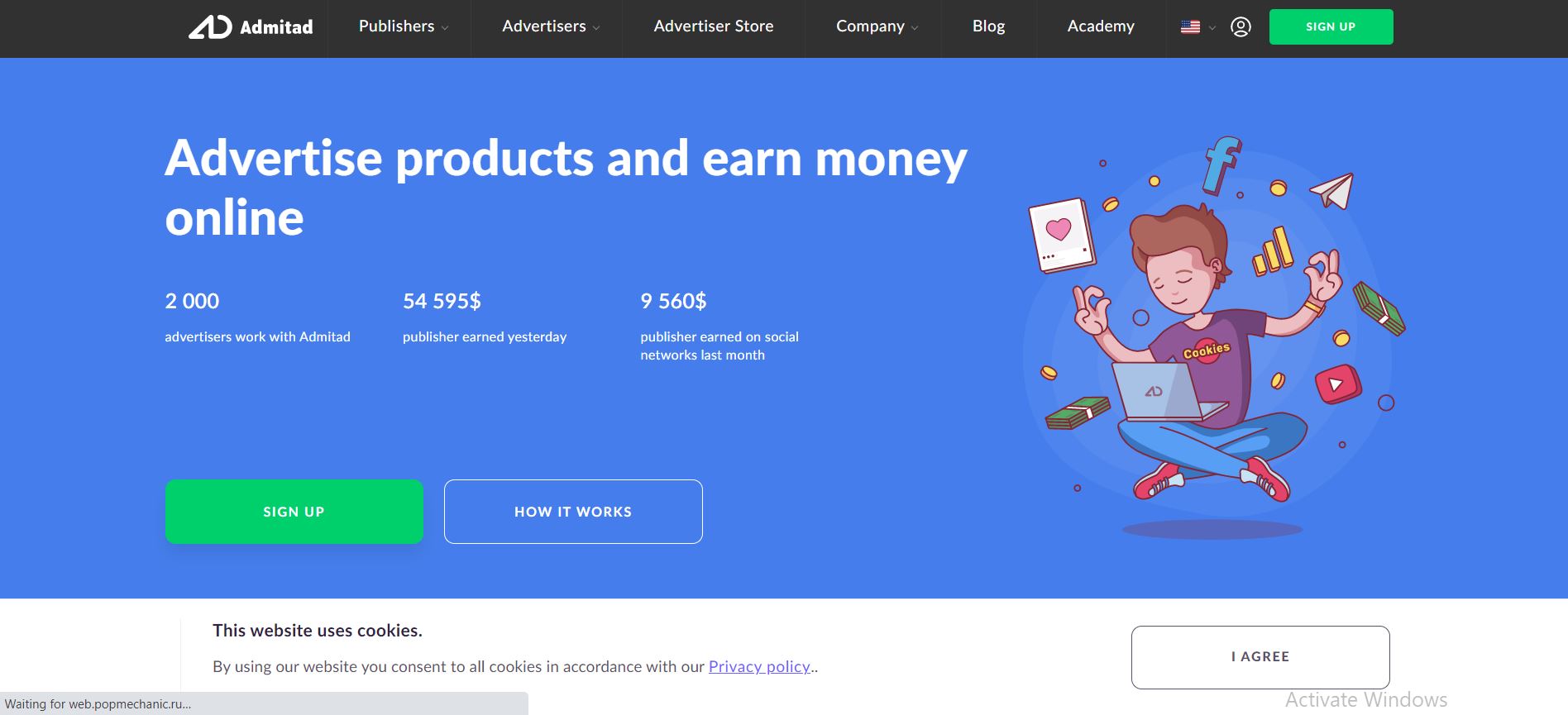 Network Details:
Minimum payment threshold: $20
Payment frequency: Weekly
Available payment options: Check, PayPal, Wire
This is a very young but powerful, successful and fast-growing CPA Affiliate Network based in Germany. Another interesting part is that they also hold seven other offices worldwide.
Their excellent support team is another thing that endears them to a lot of marketers; they usually assign a dedicated account manager to each publisher. This is something I find quite fascinating.
Looking at how young Admitad is in the industry and what they've achieved so far within this short period, you cannot but give them the honour that they rightly deserve in the marketplace. They've successfully managed to develop a vast affiliate network with more than 540,000 active publishers. Their campaigns consist of offers such as E-commerce, online games, mobile, and services.

Network Details:
Minimum payment threshold: $30
Payment Frequency: Net 30, Net 15, Net 7, Bi-Weekly
Available payment options: Wire, PayPal, Paxum, Payoneer, Skrill
This is another great performance-based affiliate network with 1000+ exclusive offers. They offer rich media ads, which are the future of advertising. One major positive side of this network is the fact that Publishers get paid right on time. Another thing is their fast support system. 
They normally use Mobile App Tracking, and Apps Flyer to track the campaigns. They also have a variety of payment options.
CPA Marketing Network #15. Arabclicks

Network Details:
Minimum payment threshold: $100
Payment Frequency: Net 30
Available payment options: Wire, PayPal, Check
ArabClicks is the leading performance marketing affiliate network for the countries of the GCC – United Arab Emirates, Saudi Arabia, Kuwait, Bahrain and Oman – with influence throughout the Middle East and North African regions, as well; providing game-changing solutions for the e-commerce marketing industry in the Arab world, together with a deep understanding of unique, localized needs. 
Other Networks: 
myLead.pl  

advidi.com 

revenueAds.com 

coinZilla.com

clickbooth.com

neverblue.com

w4.com

matomy.com

convertmedia.com

adknowledge.com

cpaway.com

mylead.global

affiliateventuregroup.com
There are many more; you can get them by searching about them on search engines. Google is the best place to start from.
7. The Most Suitable CPA Networks for Absolute Beginners
Choosing the most suitable CPA Network largely depends on your taste and traffic source. There's no silver bullet to achieving this. Now, that we're done with the 15 best CPA Networks, let's look at the most suitable networks for absolute beginners.  
On the issue of top affiliate networks in the world, I might not be able to cover all because it will be too lengthy; so I decided to focus on some of the most appealing ones.
Adworkmedia (Great for All)

CPALead (Great for beginners)

Adscendmedia

CPAGrip (Great for beginners)

Arabclick (Great for beginners)

CPATrend 

PowerHouse Affiliates (Great for beginners)
Why take this recommendation? This is the thing; if your goal is to succeed faster in CPA marketing, then you have to consider starting with any of the above-listed CPA networks as recommended because first of all like I said earlier, they're all beginner-friendly as against some bigger networks eg. MaxBounty whose policy is against several traffic methods/ and promotion methods on their offer with strict warnings like: 
(a). Offers can't be promoted on free giveaway sites! 
(b). Some offer promotion activities can't contain the following words "Free," "Win," "Claim," etc. 
When you break these restriction rules over and over again, you may most likely get banned automatically without notice (with your earnings).
It's also very important to know that CPALead has no traffic or promotion method restriction for its offers; so you need to understand this before you decide on which network to go with as an absolute beginner. Given this, you can use any kind of traffic and use any word while promoting their offers. You must understand this before you start. 
8. Getting Instant Approval in Any CPA Network: What You Must Do?

I talked about this extensively in my CPA Marketing course. This is the most difficult problem that a lot of newbie CPA marketers usually face. So, this is officially the first problem with getting into your dream CPA networks. The reason this exists is simply because of ignorance on the part of the newbie CPA market who wants to apply for approval without a commensurate knowledge of how the industry works. 
But how can a complete newbie with zero experience deal with this very issue? Find my professional suggestion below, follow it religiously and you'll get approved in no time.  
(i). If you are a complete newbie in the CPA marketing industry, then avoid the world's top leading CPA networks such as 
MaxBounty

Peerfly (which of course is closed for now) Etc
Reasons: They may approve your account after the regular interview which follows your application most likely via a call. However, they'll need to still access your level of experience in the industry. One thing I must let you understand is that these big CPA networks don't like having newbies around; and sometimes, Big networks need experienced marketers who understand the rule of CPA marketing and can also hold their own when it comes to promotion and traffic sourcing; not someone they'll be spoon-feeding.
So, if this is the case then, what must a newbie do to be accepted?
The most logical thing any smart, business-minded and right-thinking newbie should do at this point is to start small. At this point, focus only on the newbie-friendly CPA network.
9. Earnings Speculation: How much can one make with CPA networks?

Honestly, your level of skill/ and experience in offering a promotion decides how high or low you can fly in this industry. Some highly experienced CPA marketers are raking in about $3,000+ per day with the newbie-friendly CPA affiliate networks. However, in the CPA marketing industry, payment is made per lead. Normally, the amount paid per lead varies depending on the offer. Nevertheless, on averagely you can expect to get anything between $1- $6 per lead or even more.
For a single email capture, most networks will pay you between $4- $25. Whereas in other highly competitive markets like Insurance, for life cover offers, you'll get paid about $24 per lead; if it also involves a multi-part process in terms of completion, then you should expect to get paid about $150 per lead. So, the value of the payment you receive will be largely dependent on how complicated the action performed. 
By now, I know you must have been itching to find out exactly the most beginner-friendly networks available on the internet which at the same time is suitable and appears specifically crafted for you.? One of the reasons you'll need to do that is because you need to get a network that will approve you instantly; so for this reason, you must shift your focus to small networks that won't put you through undue stress just to get you signed up and approve.
I don't work with just one CPA network. As a starter with zero experience, you can focus on just 3 networks, for now, to enable you to compare the quality of offers, CPA rate, conversion rate etc. Following this instruction through will help you turn your CPA marketing venture into a huge success even before you know it.
Like I mentioned earlier, these are top among the list of the beginner-friendly networks that I recommend:
AdWorkMedia

CPALead

AdGateMedia

CPAGrip

PowerHouse Affiliates
So, this is the drill: Ensure you apply for your first three choices of beginner-friendly CPA networks for publishers/affiliate accounts; remember that CPA just like Affiliate marketing has a steep learning curve; so because of that, you must be patient to learn first and gradually gain experience as you apply that which you've learned in everyday practical business experience (even as your business also rapidly increases in revenue). After this very phase, you may then shift your focus gradually to some leading CPA affiliate networks for higher achievement and increased financial growth.
Applying to CPA Networks: Step by Step Process to Getting Approved Fast (for both newbie-friendly and top leading networks).
We'll start with the very simple and beginner-friendly networks first.
Let's start with:
(i). AdWorkMedia 
(ii). CPALead, 
These two are highly suitable for beginner to start their marketing journey with. Find below a screenshot of the sign-up form. In almost all CPA networks, you'll be required to provide nearly the same information while applying for a publisher/ affiliate account.
Additionally, most of the CPA networks will require you to provide them with the URL of your website or blog through which you intend to promote the CPA offers. Notwithstanding, you can also promote through other websites and media. There's an array of options but if you have a personal brand website and send in your application using your branded email address like info@theonlinemillionaire.com.ng  you'll most likely get approved within the shortest possible time because it will immediately communicate a signal to the network that you're a very serious business-minded person.
But I know that being a complete newbie, you might say: Oh! I don't have a website; I've never even thought about having one. If this is your current situation, never worry; there's always a way out!
It's not all the network that requires you to have a website, and CPALead is one of such networks that doesn't require you to have a website. So, this is the thing: If you have a professional niche website, it's good you start with the most beginner-friendly network that requires a network- and that is AdWorkMedia; but if you don't have a website, it's also good that you start with the most beginner-friendly website that doesn't require a website- and that is CPALead. 
I hope you get it now?
Now, that you're all fired up to get started? If you have a good website, you are highly recommended to apply for AdworkMedia. However, we'll commence with the step-by-step application process of both networks because they're very similar.
Step 1:
(i). Go to the signup page of AdWorkMedia and CPALead, open both of them up on different browser windows.
(ii). Fill up your name and other personal information. If you have a professional email hosted on your domain (for instance, info@theonlinemillionaire.com.ng), I'll suggest you use it instead of using your regular Gmail, Yahoomail or even Hotmail etc. The reason for this is because this very simple action will to a larger extent increase your chances of getting approved. But in case you don't have any, then you must make do with what you have by using regular free email accounts. 
Step 2:
(i). This is the next most important step- "Filling up the promotional method" part of the signup form. If you fail to handle this phase correctly, you can ruin your effort completely and make a total mess of the entire process. So, if you want to get approved, then pay attention carefully.
Here are some smart tips that will help you fill up this part correctly: 
(i). Choose either website or PPC as your promotional method. If possible, choose both of them  
(if that option is available). 
(ii). Don't try to be clever by half trying to make effort to lie by providing other people's websites as your promotional platform; you'll most likely be caught pants down. It doesn't always end well.
(ii). Always make sure that you choose "Incentive" as the type of traffic.
You could add these other promotional methods in the description: PPC campaigns, Facebook ads, Promotion via content, Promotion via SEO, and Promotion via Display networks.
Step 3: (Reserved Technic for Only Top CPA Networks)
(i). Once you press the "Submit Application" button, you are done for the newbie-friendly CPA networks application; but in the case of the top networks that approve accounts after a mobile phone interview, it's usually not so. 
In the case of the top networks, after applying for an account, they will email you informing you that they will send you a confirmation mail after reviewing your application and then communicate your application status to you. At this particular point, you don't sit down and wait for the top CPA networks to contact you because they don't even have that time in the first place.
So, you need to contact your affiliate manager as soon as possible (you will get information about your affiliate manager in the very first Email they'll send to you after completing your application).
Now, let me give you a few tips on the most professional ways to contact your Affiliate Manager. 
Try to reach them on a phone via your mobile.

Another option is that you can buy some Skype credit and use that to put a call through to them using Skype.

The next equally great option is to send them an email or send a Skype message saying that you just applied for a publisher account and are ready for the phone interview.
These three simple but powerful approaches will put you in a very positive light before your affiliate manager. In the absence of that, it clearly shows that you are a very serious business-minded person with a keen interest in becoming a publisher/ advertiser with the CPA network and this again will send them a strong signal that you're willing and ready; hence your approval will come faster than you anticipated.
10. Steps to Promoting Your CPA Offers

When it comes to promoting CPA offers, there are several ways to handle that professionally so that you can earn some good commission and at the same time avoid getting a ban/ outright suspension of your account.
CPA offer promoting techniques:
One of the most popular ways to promote an offer which is very common among expert marketers and the majority (who are largely inexperienced) is by sharing the offer on social media. The techniques employed in doing this include: 
(i). Sharing the offers on relevant groups and communities across various social networks like Facebook, Google+, LinkedIn, etc. (I actually got my very first lead by sharing my CPA link in relevant Facebook groups; and that to a very large extent boosted my confidence in the business so much; thereby helping me to see possibility in a business that I initially thought was a hobby.
(ii). You can create some highly converting videos and get leads via video marketing on various content publishing platforms such as YouTube, Dailymotion, Vimeo, etc.
(iii). Another way you can also do that is by writing some high-quality content and promoting the content via other blogs, paid advertising, Web 2.0 sites, and article directories like Ezine, Medium etc.
So, if you intend to market, using your blog as a platform/ traffic source, then you must, first of all, make sure that such a blog is properly niched and then you can go ahead to look for offers (on your CPA networks) that align with your blog niche so that you don't end up promoting an offer that is completely off from your blog topic. Eg. trying to promote a cryptocurrency on a health and wellness blog. That will be crazy!
Therefore, you must settle down, look at your blog properly and then decide on what kind of offer will be most suitable for you to promote on it so you can start getting conversion/ action and as well making money in the process.
Another power technique you can employ to help you in the promotion of your offers is to build an email list. This will not only help you to make money fast, but it will also help you generate traffic that you own and control and will also help you to get high-quality leads. 
In this case, I recommend you start with any of the free email services like Sendinblue, Mailchimp etc. as a complete beginner because I know that a lot of people reading this might be quite very low on budget at the moment; then when you start getting some good money from your marketing efforts, you can relax and look at some world-class email services like Convertkit, Aweber, Getresponse etc. because of their high-quality service and affordability.
But if you don't have a website/ blog you can create a new one in the niche of your choice and choose the relevant type of CPA offers; then you can go ahead and rank the website so you can get unlimited CPA leads. This is one of the ways you can build a successful business online with CPA marketing.
(iv). You can buy banner Ads and promote your CPA offers without having your website or running your promotion through your website.
(v). You can also employ Facebook ad campaigns and PPC campaigns as a major traffic source for you which will also end up sending you a massive amount of traffic for your CPA offers if you do it the right way.
Now, let's look at the processes of promoting on social media.
Promoting CPA offers using Facebook as a channel:
Facebook is the mother of all traffic as it gets more than 1 billion unique visitors on daily basis. This is not in dispute; and having established that fact, let's now look at some of the all-time winning formulas when it comes to promoting CPA offers on Facebook.
Rule #1: When promoting your CPA offer on Facebook, ensure you cover up your CPA offer link by shortening and cloaking it, or use the alternative option in the second method by writing a post on your blog.
How can you go about this? First of all, you must start from the place of research and carefully select some pages that are related to your chosen CPA offer. After that, make a genuine, trustworthy comment with a strong CTA (Call to Action) to enable people to click on your provided link. You can also speed things up by soliciting help from your friends asking them to like your comment as that action on a massive scale will make you more authentic and trustworthy.
> You can also go a little deeper getting laser-targeted traffic by over-stretching things a little in terms of the work; for instance: sending private messages. Nevertheless, you need to bear in mind that you need to be more conscious not to cross the borderline between diligence and unprofessionalism (in terms of how you handle your promotions). You have to be very strategic in this case too.
> Research pages that are related to your CPA offer. Go through the comments on each post, you have to be intentional about this. Your job is simply to find people with issues; then when you find them, ask to help them with their problems. Ensure that your CPA offer must be able to solve the problem (otherwise, don't promote it to them). Your integrity online is priceless. Don't trade it for anything.
> Start with mentioning their name and be plain on how you found them online while sending them a private message. Start the conversation with Hi, Hello, What's up, etc. Then go straight to your main point. Also, make sure you get a reply from them in order not to appear as a spammer on Facebook which will be very detrimental to the success of your business or the growth of your brand. which will decrease your chances of being seen as a legit business person on Facebook.
> Avoid making too many comments within a very short period. Avoid sending too many private messages as well. Try also to maintain a gap of at least 30 minutes between your comments and privates messages. It's safer to do not more than five comments and private messages per day.
Promoting CPA offer Using Twitter as a channel
Promoting on Twitter is not as difficult as promoting on Facebook in the case of links. You can simply just cover/ shorten your CPA affiliate link using bit.ly and then go ahead and promote it on Twitter. It's a proven fact that shortened links get more clicks on Twitter, according to several pieces of research.
It's better to start your Twitter marketing from hashtag research for the best result. For that, visit hashtag analyzing tools such as hashtags.org and type any keyword that's related to your CPA offer.
How to go about it: For instance, you type a particular key phrase like "amazon" since a lot of CPA offers are related to amazon gift cards and deals. Then, immediately after pressing the search button, you will get all the recent tweets that include #amazon and other related tags. Look at the tags and carefully pick your choice from among them and start promoting. 
Your focus should be to make tweets with your selected tags attached to them.                                                                               
Tweet 8-10 times a day.

Use 2-3 hashtags in each tweet.
Apart from tweeting, you can also get personal, just like Facebook.
Try to use a related picture in the tweet.
 For instance, you can run a search on Twitter according to your keyword and see if anyone is asking for help that you think your CPA offer/ product could be the answer to their question/ or solution to their problem.
If you're very convinced that you have the solution they seek, you can send them a direct message them explaining your solution to them and if they buy into it, you make someone happy and everybody is happy.
Promoting CPA offers using Pinterest as a channel
Pinterest marketing is easy, engaging, and fun. But, most amazingly, researchers found that the average sales from Pinterest traffic are higher than Facebook traffic, which is a clear sign of getting a higher conversion rate from your CPA offers.
In this case, it will be better to write a post about your selected CPA offer and then drive traffic from Pinterest. On the other hand, you can also use shortened links.

How to promote CPA offers on Pinterest:
If you are new to Pinterest.com, the first thing you need to do is to sign up for an account. After that, write a compelling description and don't forget to add your profile name.
Then, you must proceed to create a board that's related to your CPA offer. For instance, You can name your board after some of the several CPA offers on your CPA network. After that, search on Pinterest by your keyword, then pin some nice images on your board and follow other boards of a similar niche (Don't follow more than 100 boards in a day!).
How you can increase your followers on Pinterest                                                                                                                                                                                           
After getting some followers, you can go straight to promoting your CPA offers by uploading and pinning images along with your offer link (very simple). Make sure your images are attractive and relevant to the offer you're trying to promote.
To add a link to your board's pin, you need to open the image and click on the "edit" button. After that, put the link below in the box and save it. Remember, you can add a link to the pins that you upload but, you cannot add a link to any pin that you have repined from other boards (get that). You're free to add as many images/ pins as you can to your board. Take some time to search out popular pins of other boards by looking at the number of Pins on it and Likes.
Promoting CPA offers using YouTube as a channel:
A lot of CPA marketers make a ton of money from the massive traffic they generate from YouTube alone. If you're thinking of making some really good money using CPA as a model, then you have to ensure that you find a way to step up your game in video making and editing, then you can take your focus away from methods of traffic generation and promotion; focus just on making high-quality videos as it produces real results but very tasking too.
Some CPA marketers makeup to $10,000 and above every month using only YouTube video marketing.
If you are a newbie and don't know how to make videos. Never to worry, you can simply make a slide presentation in MS-Powerpoint and record your voice of the presentation as video using any screen recorder; Camtasia should be your plug for this. Ensure you make only quality and engaging videos.
Ways to rank your YouTube videos for CPA offers:
Steps:
· Go to https://keywordseverywhere.com/ and search for any specific keyword of your choice.

· Select a keyword that appears most relevant to your selected CPA offer.

· Keep the video within 2mins or a little above that.

· Ensure you put your keyword in the video's file name (before uploading it), in the title, in the description part, and tags while uploading the YouTube video.
· To speed up your ranking, share your video on all social media as much as you can.
· You can also build some backlinks to get the best result for your video. 
Forum Marketing
This is one of the major channels for CPA offer promotion. But the problem here is that a lot of people don't understand forum marketing and because of that, they always end up getting banned. 
One of the most serious mistakes that a lot of marketers make when it comes to CPA marketing using the forum as a channel is that they always post their offer links and also send them in as replies with their offer links indiscriminately in the communities thinking that is what forum marketing is all about. 
But then, what is the right way to do Forum marketing?
(i). First of all, you need to figure out the ultimate aim of the forum. Bear in mind that admins create and manage discussion forums to build a community and help each other, not to promote products and services or even grant you a space to spam community members. 
So, what you must do now is to focus your energy on finding a discussion forum that is relevant to your CPA offer. 
Ways to promote CPA offers using the forum as a channel:
· Sign up for a signature enabled forum and complete your profile details as requested.
· Ensure there is an adequate number of members and visitors (coming to the community on daily basis). This you can know by simply looking at the number of threads and replies.
· Add your blogpost's link in the "Home page" or "Website" section of the profile.
· Craft a very powerful introduction and include the blog posts link in the signature section because some forums don't allow direct affiliate links. 
· After setting up your profile and signature, make it a point of duty to start engaging and helping other forum members on daily basis.
· Then, make a conscious effort to initiate a friendship with others as well as growing your circles within the community. Get active, give replies, ask questions, give thumbs up, and position yourself as a dedicated contributor to the forum.
(j). Article marketing
Thinking about what this means exactly? There's nothing much attached to it. Simply put, it's the same thing as blog post promotion. Nevertheless, if you don't own a personal blog, you can signup for free blogging services like Medium.com, WordPress.com, or Blogger.com.
Once you're done with that, write articles that are very relevant to your chosen CPA offer. For instance, you can write an article on any of the top offers on the network that you want to promote.
Ensure your article title is attractive enough to grab people's attention. Apart from that, add a strong call to action sentence or button to maximize the opportunities that could come from that.
To achieve this almost effortlessly, you can say: "Get your FREE Amazon Gift card," "Take a Minute Survey and Qualify for a FREE Video Marketing Course," etc. Use that as Call-to-Action so that people will take action and you can be making a good amount of money with that on monthly basis.
Ways to promote your CPA offers using article marketing as a channel:
Do not try to excessively promote your CPA offer in the articles.

Ensure to add great value to your content to be approved for publishing.

Learn to make use of an attractive title to get maximum attention and conversion.

Make sure you use the CPA affiliate link only twice in the article.

Ensure your articles are not below 800+ words for better results.

After publishing, promote your article to get more instant traffic.
Promote your CPA offers using native advertising as a channel:
To get the best of this, then you must, first of all, understand what Native advertising is. In simple terms, Native advertising is an online marketing method that involves using paid ads that match the website's look and fit perfectly into the surrounding content. By so doing, you can leverage the content and the credibility of publishers and increase ads' conversions.
There are some very good native advertising networks like MGID, Outbrain, and Taboola etc. So, if you're going to use any of them, you'll have the advantage of placing your CPA offers on websites like MSN, CNN, and other big publishers.
A Detailed list of Traffic Sources For CPA Marketing According to Categories:
Search:
Keywords Everywhere

Google Adwords

7search

Bing Ads
Etc.
Social Media:
Twitter Ads

YouTube

Instagram

Facebook Ads

Stumbleupon

Pinterest

Reddit

LinkedIn Ads

Netlog

Plenty of Fish
Etc.
Classified Ads Posting Websites:
Oodle

OLX

Backpage

AdPost

Kijiji

Craiglist
Etc.
Banner Ads:
Buy-Sell-Ads

Banner Garage

Wam

SiteScout
Etc.
Mobile Advertising:
Mojiva

Buzzcity

Mobclix

Rhythm New Media
Etc.
Contextual:
Clicksor

Media Traffic

Trafficvance

LeadImpact
Etc.
Email Marketing (which I mentioned earlier):
ConvertKit

Aweber

Getresponse

Mailchimp 

MailerLite

Campaign Monitor
Etc.
You can check out some articles on Native advertising on Google for better insight.
Ensure that your CPA offer must be able to solve the problem (otherwise, don't promote it to them). Your integrity online is priceless. Don't trade it for anything
10. Getting Payment From CPA Networks:

Several payment methods are supported by a lot of CPA networks. However, these payment options will always remain the best options until we have something better:
Paypal 

Payoneer

Skrill

Cheque

Bank transfer 

Western Union 
 Etc. 
Paypal is the number one choice for a lot of networks and marketers, but I have my reservations about the platform. On the other hand, I highly recommend you sign up for a Payoneer account, which comes with a virtual bank account under Bank of America. You can use this bank account to get all your affiliate money and withdraw your money at will also.
I prefer Payoneer over Paypal because, with a Payoneer master card, I can get cash from ATM at any corner of the world.
12. Conclusion
So, here we come to the end of this guide: CPA Marketing for Beginners [The Most Detailed A-Z Guide].
Now, what's still keeping you? It's time to set your financial goal and start making money with CPA marketing paying attention and replicating everything you've been taught in this CPA Marketing for Beginners. If you need additional information, please feel free to chat me up via the website. I'm here to help you grow.