WHAT I THINK YOU MUST KNOW BEFORE YOU START
A lot of times people ask me some several closely related questions as regards Internet Marketing like; "How long have you been in the business? Who taught you? Who is your mentor? How much have you made so far? What advice would you give a complete newbie like me? How much will I make in say two weeks if I invest about N200,000? What is my guarrantee of ever recovering and multiplying my investment etc";
All of these are good questions but remember, I'm no magician, secondly strength and determination varies, our drive and passion is another thing. Most of the people who are working online rushed into the industry just to get food for the stomach owing to severe difficulty and abject poverty. They never bothered to get the right training for themselves before they plunge in very deep into such a dangerous terrain where scammers are kings at the gate.
Therefore in view of this, I make bold to say at all times that: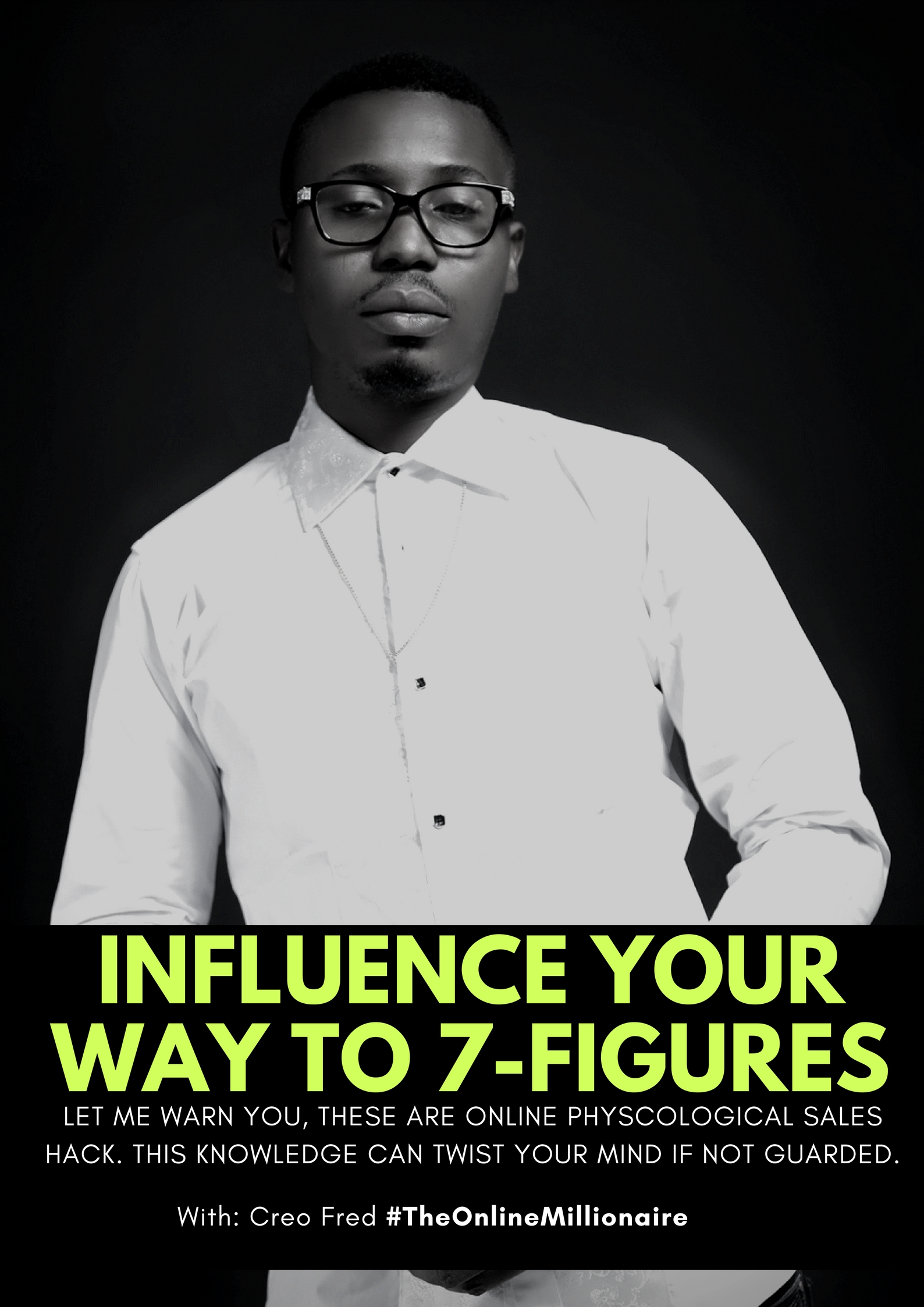 I guarrantee nothing, I make no claims, I have nothing to prove or show to anyone, neither do I wish to to impress anything be it negative or positive upon your heart as regards my person. I'm only a tutor; but if you're committed in that which you'll be learning from me, you can become highly successful, but then again, it all depends on you.
Having said that, If you've been thinking of making real, legit money online, then look no further. One of the reasons you've made no money online is not because the network marketing industry failed, not because P2P failed, not because Cryptos failed, not because Binary options failed, not because Forex failed, not because faucets pays nothing, not because affiliate maketing turned old-school, not because internet marketing crashed worldwide, not because your physical products are sub-standard nor can't be placed anywhere when it comes to aesthetics.
THIS IS THE VERY REASON WHY YOU FAILED:
You simply failed yourself by neglecting the four (4) most important ingredients needed for success in the online market place and the 5th is complete taboo in marketing;
You have no qualified and proven mentor whose wealth of exprience can save you pains of fruitless years of unfocused hardwork.
You ignored the first law of money in view of making money online.
You never bothered giving a full shot at it, because you think everything is fraud.
You did not learn the trade before plunging in deep with all your resources.
And the fifth (5th) is, you never appeared in the online business place with the mentality of an entrepreneur strictly crafted to provide solution to a specific area of specialty (not jack of all trades).
What can you do without knowing what you must do first?
How can you solve your own personal money problems for yourself without knowing you have to identify other persons problems first, solve them and get paid to solve yours?
How can you become wealthy without knowing little or nothing about the duplication system?
How can you create and sustain wealth via the online business channels without first understanding that you need a wealth system first?
Listen to me, The online market place is not an escape route from the rat-race; The online market place is not for part-time players; This they'll never tell you but I just told you now.
Therefore, if you're coming here with the intentention of hitting a million dollars today, and working just for 30mins and banking a million naira per month, then LOG OFF!
But if you want to learn and succeed from someone whose wealth of experience can help you grow faster and achieve success within a short period of time without much stress and mistakes (though I'm not promising the road will be smooth and easy), then you already know what to do.
Hit me up Now.
+234 8038432085
[contact-form][contact-field label="Name" type="name" required="true" /][contact-field label="Email" type="email" required="true" /][contact-field label="Website" type="url" /][contact-field label="Message" type="textarea" /][/contact-form]
Get mentored today by #theonlinemillionaire