How to Make Money Online With a Personal Website.
When it comes to making money online with a personal website, the very first thing that you MUST have to consider is the INTENT- Which is: "WHY AM I CREATING THIS WEBSITE?" DO I WANT TO MAKE MONEY WITH THIS WEBSITE OR IS IT JUST A HOBBY?
Knowing this from the very beginning will go a very long way in helping you figure out exactly the next step to take and how to strategically actualize your plan (carefully and well thought out too). This will to a very large extent help you to eliminate too many unnecessary and unavoidable errors that almost 95% of people who try to set up a business online make almost on daily basis, and this is the #1 reason why they incur loses trying to set up a business online.
So, INTENT IS MONEY! Therefore to learn how to make money online, you must, first of all, learn how to be intentional about every single step that you take from the conceptualization process to the finishing.
One thing that never fails also is your ability to master how to combine a variety of strategies in a bid to achieve the very best results. So let me show you exactly how to do this:
You can't be caught putting all your eggs in one basket… Nah! Smart people don't do that! Rather you'll need to explore a plethora of opportunities spinning on the wheels of your business platform (which is your WEBSITE); and what's more important? You can only do this on YOUR PERSONAL WEBSITE; not another person's website, not on a borrowed platform!
You can click here to learn exactly how to start building a real business online with a personal website here: https://theonlinemillionaire.com.ng/the-6-figure-blogging-manual-book-release/#
So, this is the proven strategy towards building a true money-generating website:
Brainstorm on a list of lucrative ideas. (Take it or leave it, every idea will not make you make money. Some ideas can make you lose your respect, some can make you lose trust, some can make you look stupid, some can make you super famous, some can make you not just money but super-successful; whereas some can kill you!- Bear that in mind).
In that light, if you're confused about this and now thinking of ways to get it right, you can talk to me.
2. Choose a name that completely represents the concept of that very business immediately you get that winning idea.
For example, you want to start on online catering services, it will be suicidal to build a website with domain names like:
www.nnekanetworks.com
www.joeinternationalbusiness.com
www.infoglobal.com
If you try this, then know that your business idea is already dead on arrival. Rather, you should carefully choose a domain and business name that carefully represents what you do and capable of telling people exactly what your business is all about even when you're not there to explain to them (as a matter of fact, you shouldn't explain anything; that is the job of your website).
For example, you can look at domain names like:
www.angiescatering.com
www.exquisitedelicacies.com
www.ovenfresh.com
www.urbankitchen.com etc.
3. Fetch your keywords. This will help you know first of all if that area of business/ niche is lucrative enough to make you some good money consistently. Doing this the right way will help you crush your competitors or at least stand up to them.
So, if you want to go into the MAKE MONEY ONLINE niche like myself, you might wanna start by looking at keywords like:
Work from home,
Work from home jobs,
Make money online,
Money from home online,
Jobs online, Online jobs,
Work at home jobs,
How to make money online,
How to make money online with a website,
How to make money online with a personal website,
Make money online with a personal website in Nigeria
4. Choose your platform and Build your website. This is very crucial if you're serious about making money here online. This is the foundation of every true and real business. It's the very pillars that will carry that great idea of yours and present it to the world as a business.
If it is shabbily done, then the world will perceive you as "unprofessional", disorganized, bereft of ideas or even fake.
Facebook, Instagram, Linkedin, Amazon, eBay, Shopify, Youtube, Twitter, etc are people's websites; they're other people's businesses. So, building your business to rely on these websites 100% is total madness. What happens if they shut done tomorrow; or maybe a particular new policy prohibits you from using them? What if they block your account and chase you away? It means all your connections and content are gone for life and you cannot go to court!
5. Start Building Content. I'm sure you've heard the saying "CONTENT IS KING"? Yes, it's ever-green and never fails. To make money online, YOU NEED TO SELL SOMETHING; and to really sell anything, you need to develop powerful content (without it, you'll not do well online… without learning how to create winning content online, YOU WILL NOT MAKE MONEY!).
Let me ask you, why are you stuck on my page reading this right now? The answer is very simple!- THE CONTENT IS GREAT. Now, what am I doing to you with this content?
I'm simply SELLING to you!
Most of you reading now are not aware but I just told you now.
Content is the most powerful way to brand yourself online- I JUST GAVE YOU A POWERFUL SECRET NOW.
Learn more about branding yourself using the internet by creating powerful content: https://theonlinemillionaire.com.ng/theonlinemillionaire-branding-series/
6. Create Product & Services. Think of ways to come up with products and services to sell on your website. That's the very reason why you built that website in the first place. So, any kind of product or service can be sold online using a website.
7. Sign up to Affiliate & Ad Networks. Companies are waiting for you online to do business with you. These people are willing to pay you money as long as you're willing to work. It's not one-time payment stuff, it's not something based on assumption; these are real companies, real people, real businesses.
There are several other ways to make money online which I cannot cover in this article because of time. However, if you're serious about making at least $1,000 as a beginner, I can lead you by the hand and show you exactly what works and how to make it happen.
8. Lastly, BUILD YOU CUSTOMER LIST! without this, YOU HAVE NO BUSINESS ONLINE!
Do you want to keep procrastinating; or are you ready to START NOW?
I'm here to help you!
By the way, Facebook took this very post off my timeline and group immediately I published it because they said it's against their community standards policy.
See images below: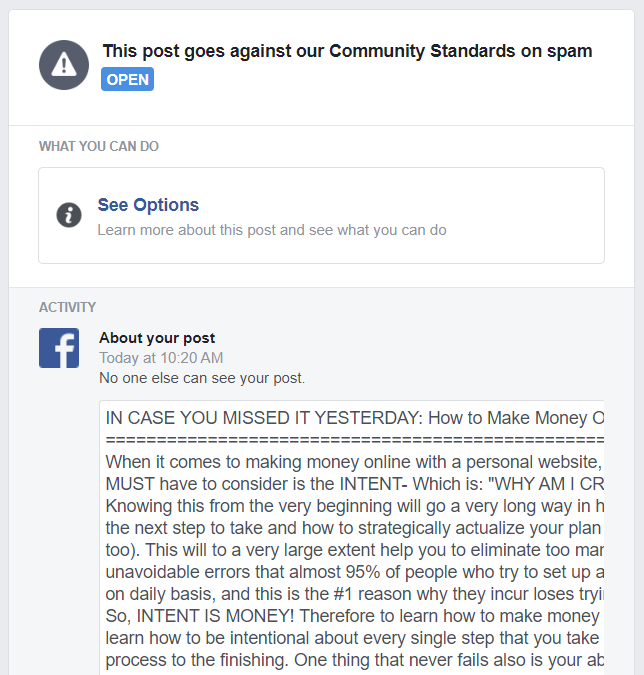 So, I decided to post it here and then from here back to Facebook. Now you can see the reason why you should not plant flowers in a rented apartment. The owners can send you parking anytime.
Click here to see an instructional video on HOW TO MAKE MONEY WITH A PERSONAL WEBSITE: https://bit.ly/2xyHxpe Don't also forget to subscribe to my Youtube Channel.
THEONLINEMILLIONAIRE